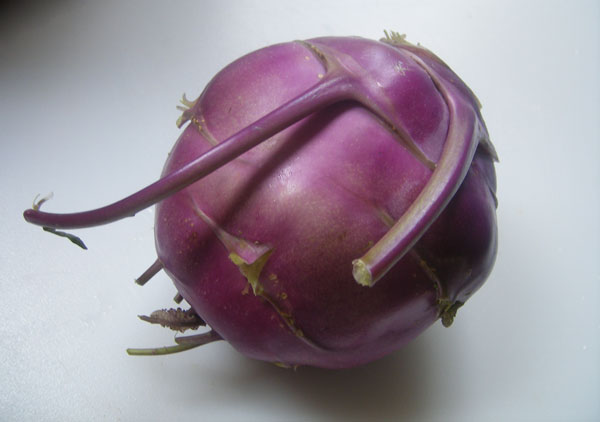 What should I do with this thing?
This year marks my third as a part of the Snow's Bend Farm CSA. (CSA stands for "community supported agriculture," a program in which you pay a flat fee for a share of a farm's products. Check localharvest.org for CSA options near you.)
I love the fresh, local produce every week, and Snow's Bend is a beautiful farm with a pair of awesome farmers who are doing everything the right way. Being in a CSA also forces you to try new kinds of produce, and discover new ways of using the stuff you get a lot of. I'm a recent convert to bok choi and kale, mostly because the stuff Snow's Bend grows is so delicious, and the Swiss chard pie recipe they included in a CSA newsletter is on constant rotation in my kitchen. (I'll post it soon.)
But I can't figure out kohlrabi. Every week for the next month or so, I'll be getting one of these knobbly purple things, and nothing I've tried thus far has made me like them. In theory, kohlrabi's crunchy texture and mild sweetness—somewhere between jicama, turnip, and apple—should make it great in all kinds of dishes. I've tried it raw in salads and slaws, and cooked in stir-fries, and every time it's just been blah. For me, kohlrabi is merely bland crunchiness, and when I want bland crunchiness, I greatly prefer water chestnuts.
So I'm reaching out for your help, foodies of the Internet! Leave your best kohlrabi recipes or techniques in the comments, and I will try them and report back.