You wouldn't know it from reading this blog so far, but Asian food is my favorite kind to cook (and eat, for that matter). I was practically raised on Golden Chef's Mongolian beef (they even catered my bar mitzvah), my well-seasoned wok is my most prized kitchen tool, and when I moved to Birmingham, the first thing I looked up was the location of the local Asian markets. (For the record, the best one is Super Oriental Market, in the same building as the Red Pearl restaurant.)
We got a big bag of really tasty snap peas in the CSA a couple weeks ago, and around the same time The Kitchn posted a delicious-sounding recipe that roasts them with Asian flavors. I've never roasted snap peas before, but anything that cooks at 475 degrees can't be bad, and using sesame oil gets it instant bonus points in my book.
It's a really simple recipe: Toss peas with sesame oil and salt, roast, top with sesame seeds. The peas lose their crunch almost entirely, becoming tender and almost silky, and their sweetness is intensified by caramelization.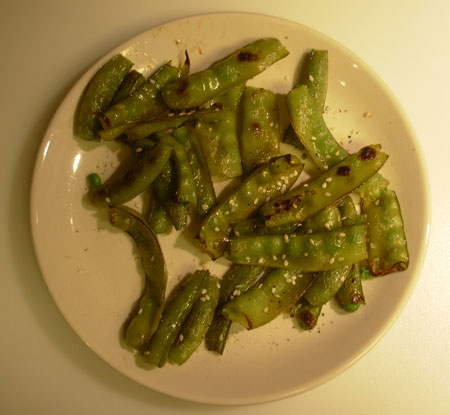 Sesame Roasted Snap Peas recipe (The Kitchn)
To pair with this, I wanted to make ma po tofu, a spicy Szechuan dish I've been working on perfecting, but Nadria's gotten tired of my not-so-great experiments. We decided on a stir-fry with peanut sauce instead.
I love peanut sauce, and after years of trying I've come up with a reliable and versatile formula for making it. Start with a base of equal parts peanut butter and warm water—this gives you the right thick-but-pourable consistency. Next, add little bits of something sweet, something spicy, something salty, and something sour. (Coincidentally, balancing these four flavors is the central tenet of Thai cuisine.)
The sweet can be plain sugar, but I prefer something with a bit more depth, like brown sugar or molasses, or hoisin sauce works really well too. Sriracha is an obvious choice for the spicy, and you can easily vary the spice level for different applications. The salty ingredient is soy sauce, though hoisin counts if you use it as your sweet ingredient. Sour can be lime juice or rice vinegar.
Stir-fries are always easy and a great way to use up extra stuff in the fridge. Tonight, I used onion, garlic, broccoli, and tofu, plus some soba noodles because we needed a carb.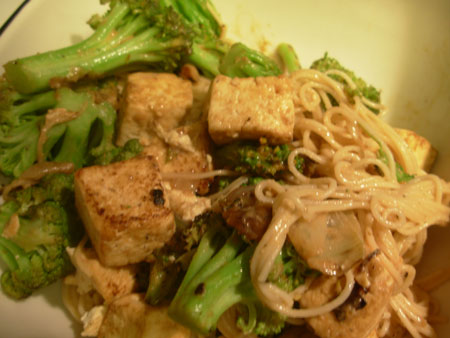 The noodles soaked up too much of the sauce; next time I put the noodles in a bowl and top with sauced veggies.