This weekend marked Birmingham's best summer event, the Magic City Brewfest. More 50 breweries from all over the world are on hand, sampling about 200 different beers, many of them rare, seasonal, or obscure varieties. At this year's festival, around a third of the selections were new to Alabama.
Brewfest is a fundraiser for Free the Hops, a group that works to change our state's uniquely asinine beer laws. Last spring, Free the Hops succeeded in removing the 6-percent-ABV cap on beer, which brought a flood of awesome beer. (We still have restrictions on beer container size, onerous regulations on opening breweries and brewpubs, and a complete ban on homebrewing, so there's lots of work left to do.)
Brewfest also doubles as a showcase for Birmingham's only local brewery. The good people at Good People Brewing Company brought out six different beers, five of them never available before, and the line for their booth was by far the longest at the festival.
Friday was a grueling evening of drinking as much beer as possible, but I managed to scribble some notes on my favorites this year: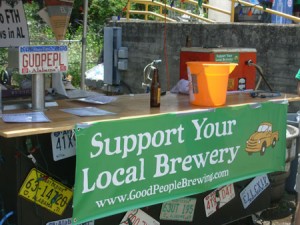 Good People Brussels Stout
I feel disloyal saying this, but many of Good People's beers are too bitter for my taste—they have a heavy hand with the hops. But this beer, a Belgian-style stout, is different. It has all the dark, malty, chocolate flavors of a stout, with funky sour flavors from wild yeasts replacing the hoppy bitterness. This was an experimental beer brewed just for Brewfest, but I hope it goes into regular production.
Unibroue Ephemere Apple
I'm a big fan of Maudite and Trois Pistoles, two dark, malty ales from this Quebecois brewery, but I normally steer clear of fruit beers and ciders because they're too sweet. That's not the case at all with this brew: It has an overwhelming nose and taste of Granny Smith apples with almost no sweetness. There are also some faint spice notes in the background that highlight the tart fruitiness. This is an apple beer for the sophisticated palate, not for the Woodchuck drinker.
Poperings Hommel Ale
This beer is sort of a contradiction: It's Belgian, which usually means no hops, but it comes from Poperinge, an area near the French border known for growing hops. So you get the banana and clove aromas and slight funky sourness that come from Belgian yeasts, along with citrusy flavor and light texture from the hops. This one's definitely a keeper, and J. Clyde carries it. Hooray!
Jolly Pumpkin Oro de Calabaza
We're lucky to be able to get this stuff in Birmingham; I heard somebody say that the J. Clyde's taps are one of only two or three places you can get Michigan-brewed Jolly Pumpkin beer below the Mason-Dixon Line. All of Jolly Pumpkin's brews are made using old-fashioned methods and aged in oak barrels, giving them deep and complex flavor. Oro de Calabaza is a golden ale that's pretty heavily carbonated for a great effervescence, with an almost cidery sweetness.
Avery Hog Heaven Barleywine
I tend to like weird beers with funky flavors, and this one fits that bill to a T. It has the "barnyardy" aromas typical of wild-fermented beers (though this one isn't wild-fermented), a really nice sourness, and very high alcohol content. But it's also really hoppy, which gives it a bracing grapefruit bitterness on the finish that keeps the weird flavors from overwhelming. Avery's based in Boulder, Colo., and has only been in Birmingham a very short time; I'm gonna have to try some more of their brews.
All in all, this year's Brewfest was a great success. I've been to all four years so far, and it keeps getting better.