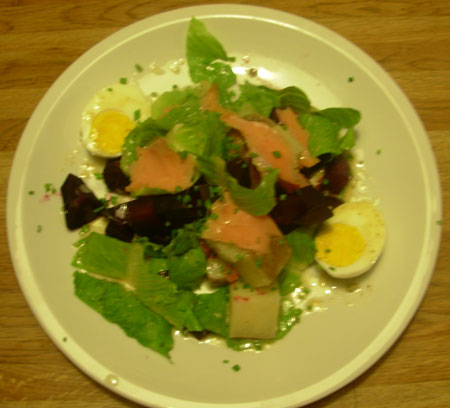 I love beets, but they're a pain in the ass to work with. They take a long time to roast, they stain everything they touch, and I've never found a good way to peel them. And a painstaking ingredient calls for a painstaking recipe, so when this week's CSA included beets and I decided to start my Thomas Keller Challenge, the Roasted Beet and Potato Salad seemed the perfect choice.
On the surface, the recipe sounds simple: roasted beets, boiled potatoes and eggs, smoked salmon, and greens with a mustard vinaigrette. But Chef Keller makes it more complicated by calling for three different kinds of beets and three different kinds of potatoes, all cooked separately and then chilled before salad assembly.
As my CSA only included one variety of beet and I wasn't about to run out and buy all kinds of potatoes when I had russets on hand, I adapted the recipe a bit. But one bit of Chef Keller fussiness turned out to be a great idea: Boiling the potatoes with a sachet of garlic, bay leaf, peppercorns, and thyme perfumes them with flavor throughout. This one's a keeper for sure.
(Recipe after the jump.)Roasted Beet and Potato Salad
Adapted from Ad Hoc at Home by Thomas Keller
Makes 2 entree portions
3 medium beets, greens removed
1 1/2 tablespoons butter
1 1/2 tablespoons vegetable oil
1 large or 2 medium potatoes, cut into 1/2-inch cubes
1 bay leaf
1 garlic clove, crushed
1 tsp. black peppercorns
1 tsp. dried thyme (or 1 Tbsp. fresh if you've got it)
2 Tbsp. vinegar (Keller calls for champagne, I used cider; really anything will work)
1/4 cup vegetable oil
2-3 tsp. mustard (Dijon or whole-grain, preferably)
2 soft-boiled eggs (you want the yolks solid but creamy), peeled and sliced in half lengthwise
1 1/2 cups salad greens
4-6 slices smoked salmon, torn into roughly 2-inch pieces
Minced chives
Preheat oven to 375°. Wrap beets, butter, oil, salt, and pepper in aluminum foil, and roast until tender, about 1 hour. Remove from oven and peel when cool enough to handle. (Keller says to peel by rubbing with paper towels. This didn't work for me; I used a regular vegetable peeler.) Chop into 1/2-inch cubes.
While beets are roasting, bring a pot of salted water to a simmer. Tie bay leaf, garlic, peppercorns, and thyme in a cheesecloth bag, and add bag and potato to pot. Cook until tender but not falling apart, about 10 minutes. Drain and let cool while beets finish roasting.
Whisk together vinegar, oil, mustard, and salt and pepper to taste to make dressing. Toss about half of dressing with potato.
To assemble, layer about a quarter of the potatoes and beets on each of two plates, followed by a quarter of the salmon and a quarter of the greens. Layer remainins beets, potatoes, salmon, and greens on top. Place egg halves around salads, pour remaining dressing over top, and sprinkle with chives.