Broccoli and cheese has been a favorite combination of mine ever since my mom microwaved some frozen florets and topped them with aerosol cheese-in-a-can—something she did all the time when I was six or seven.
Serious Eats' Roquefort Roasted Broccoli recipe caught my eye recently, and when I had it for lunch this afternoon, it really took me back. Only this time I was a much more gourmet six-year-old.
The pungency of blue cheese (I used Stilton instead of Roquefort) is a perfect contrast to broccoli's sweetness, and the crispy breadcrumbs (not having old baguette lying around, I used panko) add crunch to the tender veg.
The key to this recipe is rubbing the cheese and breadcrumbs together like you would the butter and flour for biscuits or pie dough. So rather than having tasteless crunchy bits and oily melted good, you end up with wonderful cheese-crispies all tangled up in the broccoli. It's supposed to be a side dish, but a plate of the stuff made an awesome lunch all by itself.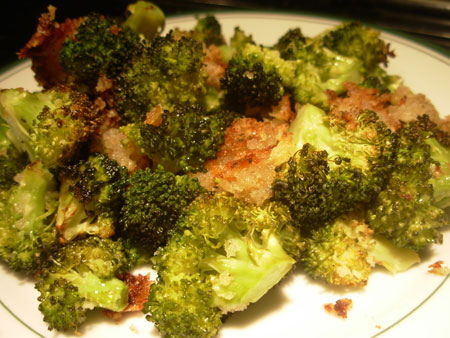 Roquefort Roasted Broccoli recipe (Serious Eats)