Today marked opening day for Urban Cookhouse, a sandwich-and-salad shop in the heart of downtown Homewood. These kinds of places are a dime a dozen in Birmingham (and everywhere else, for that matter), but this one has lots of foodie appeal: It's one-of-a-kind, locally owned, and focuses on sustainable practices and local ingredients.
And their philosophy is more than just empty promises: Back in May they set up a weekly farmers' market in downtown Homewood, and they actually sell local veggies in the shop—the same ones they use in the food. I saw squash, cucumbers, and tomatoes on display today.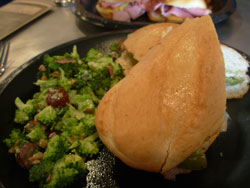 I ordered the Urban Cowboy, a steak sandwich with caramelized onions and peppers, pepper jack cheese, and aioli. The meat was cooked to a perfect medium, juicy and pink inside, and the veggies were tender and sweet. The cheese, though nice and gooey, was a bit tasteless. Perhaps a switch to a local cheese—Yellow Moon?—might be in order.
But the best part of my meal was the broccoli salad, one of six side choices (none of which is French fries—kudos on that). It's a mix of broccoli, grapes, sunflower seeds, and bacon in a really tasty sweet-and-creamy dressing. The amount of dressing is just perfect, too: Its flavor is in the forefront of each bite, but the salad isn't drowning.
I also had a strawberry lemonade, made with Owl's Hollow Farm strawberries. Sweet and refreshing.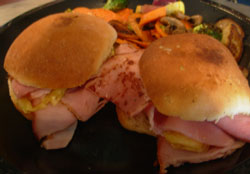 Nadria had the Grilled Pineapple Ham sandwich. Pineapple and ham are an excellent combination (there's a chemical reason for that), and the ham is actually grilled, with a nice browning as you can see in the photo. With a thin pineapple slice and plenty of ham, it's a filling sandwich, though it could use a bit more of the sweet-hot mustard on it.
Her side of roasted vegetables certainly delivered on the promise of vegetables that had been roasted, though there's not much to it beyond that.
Next time, I'm trying the wood-fired shrimp, or a salad—they've got local greens with bacon, corn, and egg; peppers with beans, corn, and local tomatoes; and berries with tomatoes, pecans, and feta. The menu also includes a grilled fluffernutter sandwich (just $2.25!), and for dessert a brown sugar brownie or a "half baked cookie," which takes 20 minutes (I assume it's baked fresh) and comes with ice cream and chocolate syrup.
I was really impressed with the interior renovation to the space. Back when it used to be a Lenny's Subs, the counter was at an awkward angle and there were about 6 tables in the whole place. Now, the counter has been moved back, with a partial wall separating the counter line from the "dining room," which has lots of close-packed seating (plus there are a half-dozen or so tables outside). There's some nice wood paneling behind the counter, and a color scheme that's consistent throughout, like some actual thought was put into the design.
Of the few places I've been to on opening day, Urban Cookhouse also seemed to have service the most under control. At noon, it was a packed house as expected, but the line moved smoothly, and everyone's orders seemed to be coming out free of mistakes. At the busiest time of the day, we had to wait maybe 10 minutes for our sandwiches.
They also know their audience real well. It's a fast-and-cheap lunch menu for all the cubicle-dwellers in the area, plus takeout for busy families. Dinner for four, including a meat main, two sides, and four orange rolls, is just 20 bucks.
Definitely worth a few more trips.
Anybody else try Urban Cookhouse today? What did you think?