(Thanks to Molly Folse for suggesting VJ's.)
For the inaugural Adventure in Birmingham, I ventured to the neighborhood I've only ever heard referred to as "out by the airport," to VJ's on the Runway. The name's not kidding; VJ's shares a block with hangars and warehouses, looks directly onto the tarmac at Birmingham-Shuttlesworth International, and the guy in front of me in line at the register was about to fly his private jet to Gulf Shores.
The place is old-school in every way, from the yellowed blinds that look like they haven't opened or closed in 20 years, to the worn Alabama and Auburn pennants on the wall, to the red tablecloths with that fuzzy white material on the other side. And so is the menu; it's your standard meat-and-three, with the addition of a few sandwiches and burgers, some salads, and incongruous hand-rolled tamales.
VJ's was even declared a Travelocity.com Local Secret, along with Oak Mountain State Park and Dreamland—which aren't secret by any stretch—and Giuseppe's—which absolutely is, and you should try.
All good signs. But I'm sad to say, VJ's on the Runway was a big disappointment.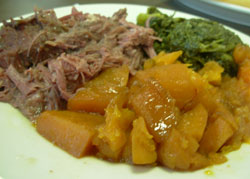 I ordered the house-made corned beef. (I'm a sucker for anything labeled as house-made.) It was nice and tender and falling-apart, as it should have been, but it was unbelievably salty. As in, pretty much inedible. I'm sticking to Max's for corned beef from now on.
The sides were nothing special—very standard sweet potatoes and greens. When I ordered greens, the waitress asked if I was sure I didn't want cabbage. Dunno if that's because corned beef and cabbage go together or because VJ's cabbage is spectacular. Guess that will remain a mystery.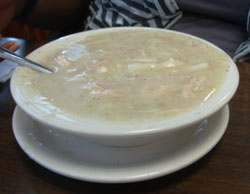 Nadria had the chicken and dumplings, which was very blah. It was awfully thin and just completely undistinguished in any way.
The highlight of our meal, if there is one, was the tamale. It's a Mississippi-style hot tamale, with nicely spiced shredded pork inside and served with a squeeze bottle of what tasted like enchilada sauce for topping. The dough was a bit undercooked and pasty, but compared to everything else this was a success.
We'd been told VJ's makes great pies, but after such a disappointing meal, we decided not to risk it. Plus, we'd been to PieLab the day before and didn't want to mar that experience.
Next week's adventure will be to Ken's Hickory Pit Barbecue in Center Point. But I'm still looking for more suggestions! Leave a comment telling me where I should go in the less-trafficked areas of Birmingham—Ensley, North Birmingham, or anywhere that's not Southside or Downtown.