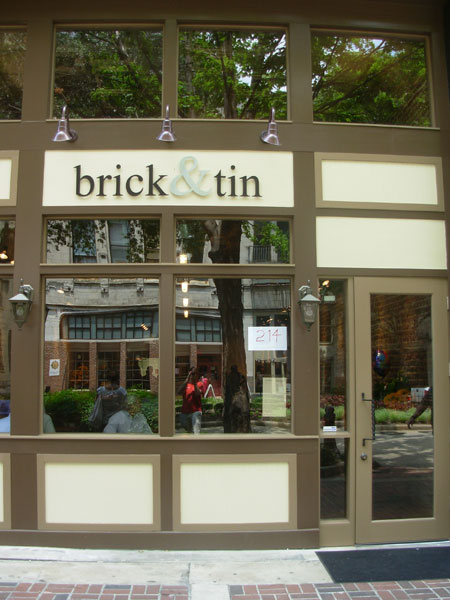 Downtown's newest restaurant opened yesterday, and I'm happy to say it's a big winner. The creation of Mauricio Papapietro, a former employee of both Frank Stitt at Highlands Bar & Grill and Chris Hastings at Hot & Hot Fish Club, brick & tin is an upscale sandwich shop that does pretty much everything right.
They bake their own bread—white bread, peasant bread, and focaccia—fresh every morning, they use local eggs and veggies, and they know how to construct a sandwich.
But the design of the place is cool too: They tore down ugly sheetrock and ceiling tiles to reveal the original brick walls and tin ceiling of their 100-year-old building (thus the name). The tables and bar are made of reclaimed wood, and the cards with your order number are laminated old-timey postcards of Birmingham. Despite the abundance of business-suited clientele this afternoon, the place screams urban hipster, not unlike Trattoria Centrale across the street and Urban Standard a few blocks away.
Ah, but on to the food: Sandwiches cost $8 apiece, and come with a seasonal side, a cup of soup, or, for $1 extra, a salad. You can also get a main-dish salad, a bowl of soup, or a side order of empanadas or deviled eggs.
I got the Bologna (named for the Italian city, not the processed lunchmeat), which is a mortadella sandwich with ricotta and whole-grain mustard.
(Okay, to be fair, mortadella is just a fancier version of bologna, the lunchmeat, but still).
The ricotta and mustard are mixed together to create a creamy, rich, and tangy spread that would be good on anything, and which goes great with the salty, porky mortadella.
The bread is really soft, chewy, and kinda sweet. There's absolutely nothing like fresh bread on a sandwich, and brick & tin's bread doesn't disappoint.
The side, a salad of lady and black-eyed peas, zucchini, corn, and cherry tomatoes marinated in oil and vinegar, was delightfully summery. The menu didn't say so, but I assume at least some of the ingredients are local.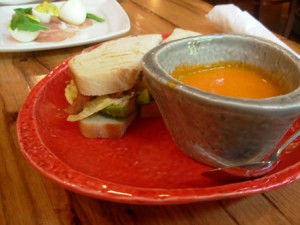 Nadria had the Coosa Valley, a sandwich of scrambled McEwen & Sons eggs, sliced avocado, and bacon.
The eggs were cooked perfectly, creamy but not runny, and the rich avocado and crunchy bacon made a great contrast. It's on the same bread as the Bologna, so all the same compliments apply there.
Nadria chose a side of tomato soup, which tasted like fresh summer tomatoes in hot, liquid form, which is all you could want in a tomato soup. A crouton or some crackers might have been nice, but maybe that's gilding the lily.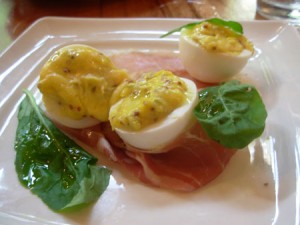 We also got an order of deviled eggs. I love deviled eggs, and these are a delicious and somewhat different example of the genre. The filling is really heavy on mustard, which despite being really good mustard would be overwhelming if it wasn't for the pairing of a generous slice of country ham. Tear off a piece of ham, top an egg, and eat them together; the saltiness balances the mustard and makes for a delicious experience.
The ham is described as Tennesseee country ham—I'm pretty sure it's Benton's, but am not completely positive. Either way it's tasty.
Now, these are only the second-best deviled eggs I've had in town, but I can't expect brick & tin (or anyone else for that matter) to compete with Miss Myra's on the deviled-egg front.
I do have to express one complaint: The service was kinda slow. With four people working behind the counter and two servers in a half-empty restaurant, it took more than 20 minutes to get our sandwiches. This would be forgivable if they were cooking a steak or chicken or something from scratch, but sandwiches require only assembly (well, the eggs needed cooking, but that doesn't take but 5 minutes).
I hope I can chalk that up to second-day jitters: If brick & tin expects local business types to come in for lunch, they're gonna have to pick up the pace a bit.
Overall, I'm a big fan of brick & tin and the gourmet urban locavore philosophy it represents. I'll be back, and I can't wait to see how their menu changes with the seasons.
You can find brick & tin's website at brickandtin.com, but it appears to be just a placeholder image right now. You're probably better off at the brick & tin Facebook page.