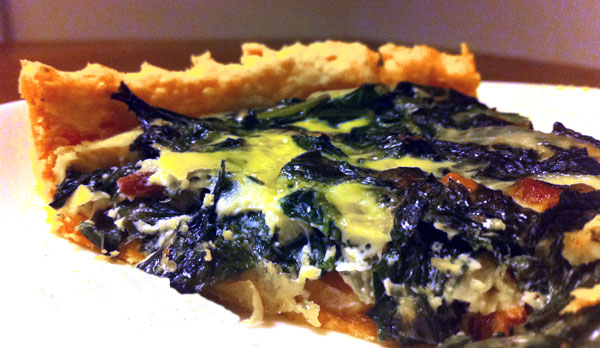 My CSA is overwhelming me with greens lately. This week's delivery alone included turnip greens, rapini, and a bag of salad greens. And this recipe is an excellent and flexible way to use lots of them up. My farmers helpfully include recipes in each week's CSA newsletter, and this one is probably my favorite of their suggestions.
It's essentially a quiche; you combine wilted greens, eggs, and whatever cheese you like, and bake in a flaky, buttery pie crust. The original uses Swiss chard, and came from From Asparagus to Zucchini (aff. link), by the Madison (Wisc.) Area CSA Coalition, but I've made some improvements, adding bacon and a smoked paprika-infused crust. Any kind of green, from spinach to chard to collards, is delicious here.
The crust is based on the ratio in Michael Ruhlman's Ratio (aff. link), a necessity for anyone that hopes to wing it in the kitchen. Pie crust is 3:2:1—three parts flour, two parts fat, and one part water. Starting with six ounces of flour (and thus four of fat and two of water) gives you enough dough for a 10-inch pie. The seasoning in the dough is up to you.
As for the cheese, a good plan is to combine some Parmesan with a more pungent or piquant cheese. I've used feta, cheddar, and blue (though not all together). The pie above used Parm, pecorino, and the very tasty and slightly funky Piedmont, a local variety from Yellow Moon Cheese Company.
I like to make this in a 10-inch fluted tart pan with a removable bottom, because the fluting looks nice and sliding the finished pie out of the pan makes it easy to slice and serve.
Greens Pie
Adapted from From Asparagus to Zucchini
Crust:
6 oz. flour
1 tsp. pimentón (smoked paprika)
1/2 tsp. salt
4 oz. (1 stick) cold butter, cut into small pieces
Filling:
2 slices bacon, cut into thin strips
1 medium onion, chopped
2 garlic cloves, minced
1 bunch greens, thick ribs removed, chopped
3 eggs
1/2 cup shredded cheese
1/2 tsp. salt
To make crust, stir together flour, pimentón, and salt in a medium bowl. With your fingers, rub butter into flour until butter pieces are pea-sized. Add 2 oz. ice water and stir until dough comes together. Form into a disc, wrap with plastic wrap, and refrigerate until needed, at least 15 minutes or up to three days.
Preheat oven to 400°. Heat a medium pan over medium heat. Add bacon and cook until crisp. Add onion and cook until translucent, then add garlic and cook 30 seconds. Add greens and cook until fully wilted. Remove from heat and let cool 3 to 5 minutes. Beat eggs in a medium bowl, and stir in cheese, salt, and greens mixture.
Roll prepared dough into a rough circle about 2 inches wider than your pan (it should be about 1/4 inch thick). Fit dough into a 10-inch pie or tart pan and cut excess off edges. Pour egg mixture into pan, and bake 30 to 40 minutes or until filling is cooked through and crust begins to brown. Let cool 5 minutes before slicing.