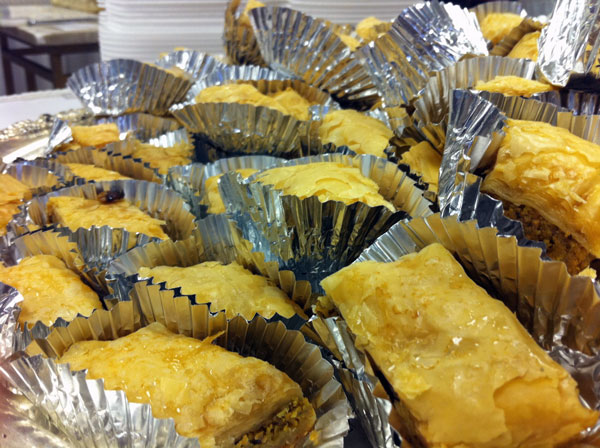 Birmingham has exactly three excellent ethnic-food festivals, but they're all oddly similar—there's the Lebanese Food & Cultural Festival in the spring, the Greek Food Festival in September, and the Middle Eastern Food Festival, which started Thursday and continues through tonight. All benefit a local church, and all feature similar foods.
Good thing all three are entirely delicious.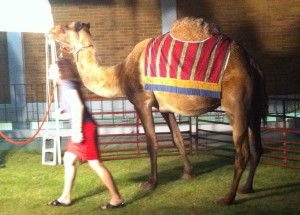 My adventure at the Middle Eastern Food Festival started with Judy the camel. We walked up to the church building, and there, under a tent, was a bored-looking camel. A sign identified her as Judy, and told us we could have our picture made with her. (Yes, the sign literally said, "Get your picture made with Judy the camel." Only in Alabama.)
But that's beside the point.
This year's food was delicious as always. A Nile plate ($16) gets you some of pretty much everything—hummus, pita, salad, grape leaves, a spinach pie, rice, and a healthy serving of kibbe. We also got a meat pie, because I'll order pretty much anything that combines meat and dough.
The pies were probably the best bart—a triangle of pizza crust-like dough surrounding dense, well-seasoned spinach or ground beef mixed with onion, spices, and cream cheese. If anyone from Saint George's is reading this, I'd love the meat pie recipe. (And if not, I'm gonna try to recreate it soon.)
Everything else is pretty much what you'd expect—kibbe's a meatloaf with cracked wheat, onion, and pinenuts; the grape leaves are stuffed with rice and meat; the green beans are cooked until silky in a tomato-based sauce; and the rice, studded with pieces of noodle, is super-buttery. The salad's really not worth trying—it's been sitting too long in the dressing and the lettuce is wilted and soggy—though the mint-and-oregano dressing isn't bad.
And then there's the pastry table. There's a good hundred feet of table, stacked a foot or more high with piles of Mediterranean goodies. We tried four of 'em. The pistachio baklava (pictured at top) was delicious, crunchy, and honey-soaked, as always. They also had choclava—yes, chocolate-covered baklava—which is gilding the lily a little. The chocolate overpowers the other flavors. A mamoul—a baseball-shaped shortbread filled with chopped nuts—tasted heavily of cinnamon and mahlab, a spice made from cherry pits that's almondy and a little bit sour. It's a unique flavor you should try if you haven't. My favorite was the pistachio burma, a shredded-wheat cup-shaped pastry stuffed with a sweet-and-nutty filling.
Don't miss the zalabieh, either. Every culture has its version of the doughnut, and this one's claimed by at least Egypt and Lebanon, if not other countries too. The festival's version is a large oval of yeast dough, fried until puffy, then soaked in honey syrup and topped with powdered sugar. If that needs any more description to appeal to you, you probably shouldn't be reading my blog. You have to enjoy it hot.