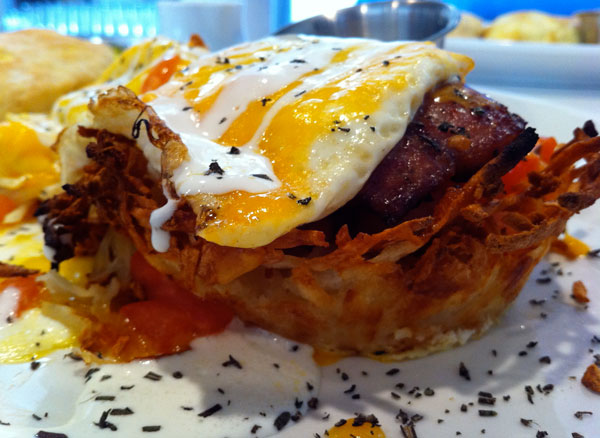 I love breakfast. My first adventures in solo cooking were at the age of seven or eight, whipping up endless combinations of eggs, cheese, and bread for myself on weekend mornings. (And yes, I was as messy an epicure then as I am now.)
And now as an adult who also likes to sleep in, I love having someone else cook me breakfast. There are a whole lot of places to get great breakfast in Birmingham, and we just got another one. Over Easy opened a couple weeks ago in the newly renovated strip mall on Hollywood Boulevard in Homewood, and the lines are already out the door on Saturday and Sunday mornings.
The al.com story about the restaurant's opening piqued my interest, as it mentioned Over Easy being inspired by the legendary Big Bad Breakfast. Opened by John Currence, James Beard Award winner and best chef in Oxford, Miss., the place just serves simple breakfast classics, but it's earned national foodie fame (okay, maybe Southern-regional foodie fame).
Point is, Over Easy makes seriously good breakfast. Like so good that after I tried it for the first time Saturday, I went back again Sunday.
The most unique item on the menu is the Hash Baskets (pictured above)—hash browns cooked in a cup shape and filled with an egg (over easy—ha!), tomato, cheese, and your choice of meat. It also comes topped with a little creme fraiche and minced chive—this is a little more gourmet than your average breakfast joint.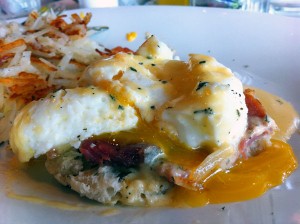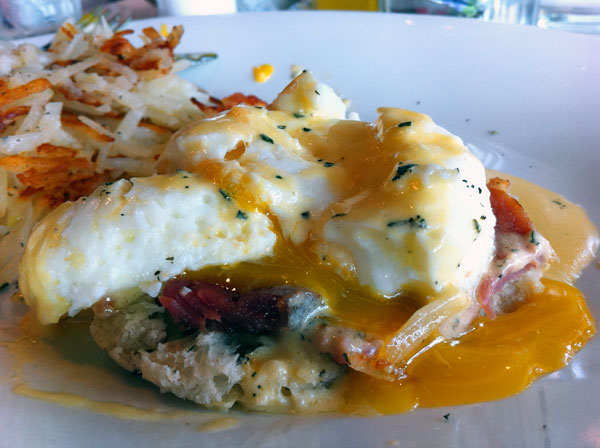 I also tried the Classic Eggs Benedict (left), which is made with extra-salty, extra-savory country ham and a perfectly undercooked egg. (The egg for a great Benedict needs to have a completely liquid yolk. This is an objective fact.) The "eggs" part of the name is a bit of a misnomer, as this dish only includes one egg, but with the generous pile of hash browns on the plate it's still a good breakfast.
Over Easy's menu is dominated by egg dishes, but there are also several pancake variations and a French toast. I got to taste the pancakes too, which are nice and fluffy and really sweet and buttery, and the scrambled eggs with them were made from actual eggs, not powdered or pasteurized.
The ingredients of all the dishes may be simple, but Over Easy is using the right ones. The eggs and milk are all organic, and the grits—McEwen & Sons—are local. (I think the smoked sausage is also local—Monroe Sausage—but I'm not sure.)
Over Easy is open for breakfast and lunch every day but Monday. There are some salads and sandwiches on the menu, but they feel like an afterthought—the breakfast dishes are the big draw. Expect to wait a while if you come on Saturday or Sunday morning, but it's worth it, and you'll probably run into somebody you know while you're waiting.
One problem I can foresee: parking. The tiny lot in front of Over Easy's shopping center was full to overflowing on Sunday, and the liquor store and Mexican restaurant going into the center haven't even opened yet. But honestly that's a good problem to have.