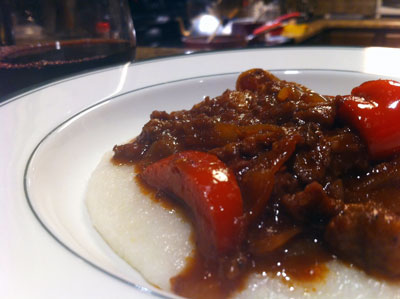 I don't really like grits. I've fallen in love with just about every other Southern food in my nearly a decade below the Mason-Dixon Line, but grits I just don't get. Sure, put enough stuff on them—shrimp and grits, heavily buttered-and-salted grits—and those I'll eat, though only begrudgingly.
And since polenta and grits are the same darn thing (don't quibble over how finely ground they are; they're all just cornmeal), the same goes for me and polenta.
But I found a recipe that puts enough delicious stuff on polenta that it's well worth eating.
Ragu is classic Italian comfort food: meat and veggies simmered down into a hearty sauce. I found this Serious Eats recipe—which actually comes from an episode of the classic Molto Mario, from way back before Mario Batali was a celebrity with his own line of orange kitchen clogs.
I adapted the simple procedure to cut down a bit on the meat and added mushrooms to put back some umami flavor. I also changed the ratio of peppers to onions, but that was mostly because I had a lot more onions than peppers in my fridge. The key to this recipe is caramelizing the tomato paste before adding the wine. You want it to start turning a deep maroon color, but you don't want it to brown at all—it'll taste burnt. Thankfully, the process happens relatively slowly, so it's hard to screw up.
The wine you choose is important, too, not least because you'll be drinking the rest of it with your dinner. Go with a powerful, rich, tannic varietal like cabernet. I used Viña Mayor Ribera del Duero Reserva 2004, a Spanish wine that's not expensive but is delicious. Lots of dark cherries and chocolate with a good tannin backbone.
Vegetable and Sausage Ragu with Polenta, Adapted from Serious Eats
Serves 3 to 4
2 tbsp. olive oil
2 onions, peeled and sliced
1 red bell pepper, seeded, halved, and sliced
6 oz. white mushrooms, sliced
1 tbsp. red pepper flakes
2 tsp. dried oregano
1 (6-oz.) can tomato paste
1 cup red wine
8 oz. pork sausage
1 cup cornmeal, grits, or polenta (they're all interchangable)
1/4 cup grated Parmesan cheese
Heat the oil in a large skillet over medium heat. Add the onion and bell pepper, season with salt and pepper, and saute until beginning to soften, 3 to 4 minutes. Add the mushrooms, red pepper flakes, and oregano, and saute until vegetables are very soft and just beginning to brown, 3 to 4 minutes more. Add the tomato paste and cook, stirring, until paste begins to darken and caramelize, 2 to 3 minutes. Stir in the wine, reduce the heat to low, and simmer 15 minutes.
While vegetables are simmering, cook the sausage in a small pan over medium heat until cooked through, breaking apart with a spoon. Remove from heat and set aside.
After vegetables have finished simmering, stir in the sausage and 1 cup water. Increase heat to medium and bring to a boil. Reduce heat to low and simmer, stirring occasionally, 20 minutes. If sauce gets too thick, add more water.
While sauce simmers, bring 3 cups of salted water to a boil over high heat. Add the cornmeal, reduce heat to low, and cook, stirring, until thick, 6 to 8 minutes. Remove from heat and stir in the Parmesan.
To serve, spoon a layer of polenta into a shallow bowl and top with a generous amount of sauce. Serve with the same wine you used in the sauce.