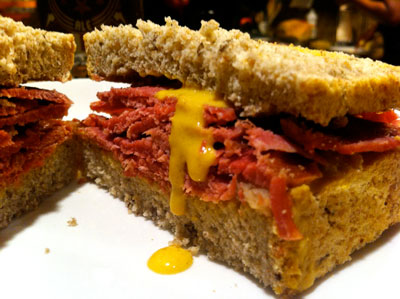 Charcutepalooza is a yearlong project I'm participating in to make recipes from Michael Ruhlman's Charcuterie: The Craft of Salting, Smoking, and Curing. For more information, see my introductory post.
Brining is powerful. It turns cheap, tough cuts of meat into juicy deliciousness (it's also responsible for pickles). When I pitted Birmingham legend Frank Stitt against Thomas Keller in a stuffed pork loin cook-off for Wade on Birmingham's Birmingham's Best Eats series last summer, it was brining that won the day for Keller.
And this month's Charcutepalooza challenge on brining holds extra-special appeal to me: I got to make corned beef. A Jewish childhood in Chicago meant it was abundant when I was growing up, but now in the South, the magical cold cut is much harder to find. (Birmingham has Max's Deli, which imports excellent corned beef from Detroit, but that's the only source for the real stuff.)
But Michael Ruhlman's recipe for corned beef yields a product that tastes exactly like the delicious sandwiches on my youth. This is definitely a keeper. (The Charcutepalooza rules say I can't post the recipe; you'll have to buy the book to get it.)
Humanely raised, as-local-as-possible meat is a Charcutepalooza must as well. I used a grass-fed brisket from Sequatchie Cove Farm in Tennessee. It was three pounds, a bit smaller than the five Ruhlman calls for. To compensate, I brined it for four days instead of the five the recipe recommends. Grass-fed beef is usually much less fatty than the standard supermarket stuff, but my brisket was marbled with plenty of the good stuff.
The whole point of Charcutepalooza is learning to cook from scratch, so making homemade-corned-beef sandwiches on store-bought rye with bottled mustard just kinda seems wrong.
I decided to make both myself.
I've you've never made your own mustard before, just try it. All you need is 10 minutes and the ability to stir, and it's infinitely customizable. And nothing beats home-baked bread; I just adapted my normal bread recipe to use half rye flour (and carraway seeds, of course).
A few notes: Beer gives the mustard a nice malty background that helps balance its fiery spice. I'd avoid lagers, but any kind of ale, from lightest pale to stout, can work. I prefer to drink darker beers, but for the mustard I like a pretty hoppy IPA. The citrus notes from the hops are a great addition. This time, I used Magic Hat #9, which the brewery calls a "not quite pale ale."
Beware; this mustard is very spicy—it's more of a wasabi-style sinus burn than a chile-style tongue burn. The longer the ground mustard soaks with the beer, the spicier it'll be. Ease up on that to make it milder. (You can also decrease the amount of beer and increase the amount of vinegar by equal amounts to cut down on the heat.)
In order to share my corned-beef wealth (even I couldn't eat a pound and a half all by myself), I threw a homemade-corned-beef-sandwich party. It also happened to be my birthday. Here's proof: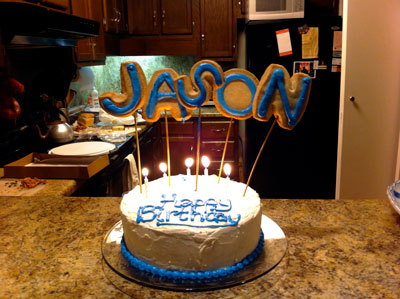 (I can't take credit for the cake. My expert baker friend Emily Vann is responsible for that. Thanks, Emily!)
Beer Mustard
1/2 cup ground mustard (roughly 1 [1.75-oz.] jar)
1/4 tsp. turmeric (optional, this does nothing to flavor but makes the final product brighter yellow)
Pinch of salt
6 Tbsp. beer
2 Tbsp. apple cider vinegar
1 tsp. brown sugar
In a small bowl, stir together the mustard, turmeric, salt, and beer. Let stand for 5 to 10 minutes (the longer it stands, the more pungent the final product will be). Stir in the vinegar and brown sugar, and refrigerate up to a month.
Rye Bread
1 1/2 cups warm water
1 tbsp. active dry yeast
10 oz. bread flour
10 oz. rye flour
2 tbsp. carraway seeds
1/2 tsp. salt
Add the water and yeast to the bowl of an electric mixer fitted with the dough hook attachment and let stand for a minute or two. Add the remaining ingredients and mix on low speed until the dough starts to come together. Increase the speed to medium and knead until the dough is smooth and elastic. (The dough should be pretty dry; if it's too sticky, add more bread flour a couple tablespoons at a time.)
Shape the dough into a ball, place in the mixer bowl, and cover with plastic wrap or a damp dishtowel. Let rise for about an hour. Punch down the dough, and knead for 1 to 2 minutes. Shape into an oblong log and place in a greased loaf pan. Let rise for 20 minutes.
Preheat the oven to 425° (the dough will rise fully while the oven preheats). Cut a few slashes in the top of the loaf and bake until it's golden brown and sounds hollow when tapped, 35 to 40 minutes. Remove from the loaf pan and cool completely on a cooling rack before slicing.