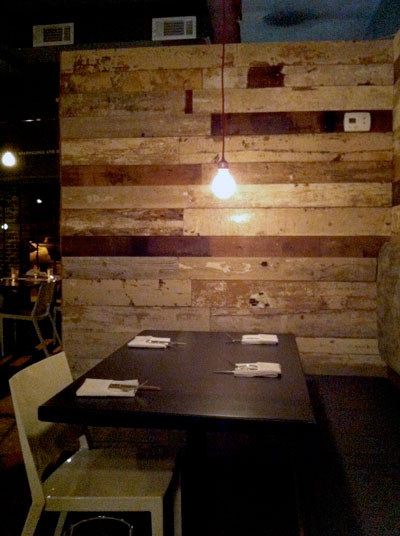 When the only thing you know about a new restaurant walking in for the first time is that Taylor Hicks is part owner, that's generally not a good sign. But thankfully, Birmingham's most famous native (sorry, Charles Barkley, Courteney Cox, Bo Jackson, and Ruben Studdard) seems to be a mostly silent partner in Ore, a new restaurant that opened up in Open Door Cafe's former location.
The space has an excellent pedigree; Open Door served one of the best brunches in town and its New Orleans-style food was amazing. I'm still stumped as to why it ever closed. That also means Ore has big shoes to fill.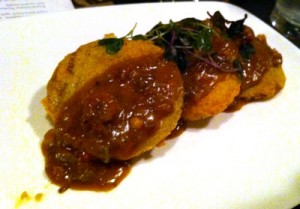 I went on the place's second night in business, which usually means lots of kinks are left to work out, but Ore seems to have things pretty well together. We started with the fried green tomatoes, which come topped with a dark-roux crawfish etouffee. This isn't exactly ground-breaking Southern cuisine, but Ore does it very well. The tomatoes are nice and tart, and the crisp coating sticks well, while the etouffee is well-seasoned if lacking a bit in crawfish content.
I had the fish of the day, snapper, which was very, well, adequate. The fish was cooked and seasoned well, and the vegetables were very fresh, but it wasn't mind-blowing. The soup it came with, broccoli-cheese, was super creamy and rich, not necessarily the best choice for a warm spring evening, but that's my own fault. I could have picked a salad.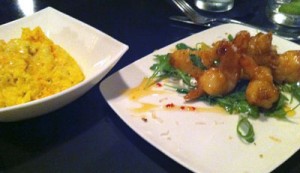 Nadria went with an app and a side instead of an entree, which turned out to be a great idea. The coconut shrimp, topped with sweet chili sauce, are a tropical delight, super-fresh and fried perfectly just like the tomatoes.
However, the real standout was the cheese grits. The shrimp and grits from  Crook's Corner and braised pork cheeks and grits from Dyron's Lowcountry notwithstanding, I don't really like grits. Even when they're doused with butter and cheese. But Ore's grits, honestly, were the best I've ever tried. That may be due to the fact that they're about half butter, cream, and cheese, so I wouldn't advise eating them every day, but hot damn, those are some delicious grits.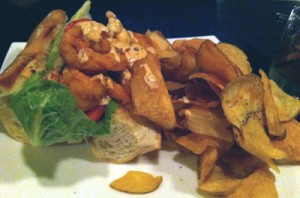 Our dining companion ordered the shrimp po'boy. Just like the coconut shrimp, the shellfish were extremely fresh and cooked just right. The house-made aioli was nice and spicy-mustard-y, and the chips on the side were great. It wasn't really much of a sandwich, though. The bread it came on was a bit too narrow and tall to actually fold over and pick up. Still, very good shrimp to eat with a fork.
Dessert was probably the most disappointing part of the meal. There wasn't anything memorable about the strawberry shortcake, even if it wasn't a complete disaster. If the rest of the menu is already essentially fully realized, the dessert choices are gonna need some polishing.
In a town filled with great Southern restaurants, Ore is yet another good choice. Its menu doesn't do anything particularly innovative or modern, which may end up being the spot's downfall, as it's kinda hidden away in the middle of a residential neighborhood in Mountain Brook. But the decor is a nice breath of fresh air. It's all reclaimed wood and bare bulbs, with iconic Birmingham images printed on the walls. The coolest touch is this famous old-timey photo of the Magic City sign, blown up to cover an entire wall next to the bar.
Even in its early stages, Ore is well worth a trip, though I'd love to see it break out of the Southern-food ghetto and make something both iconically original and defiantly Alabamian. Given the chef's chops with the traditional stuff, that just might be possible, and this town is absolutely ready for it.