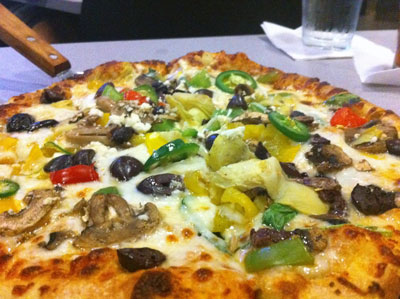 Lakeview is not exactly the center of Birmingham's food universe. The very tasty Sol y Luna aside, most of the restaurants in the area cater to the neighborhood clientele, which is to say intoxicated twentysomethings. It's all fried bar food and cheap barbecue.
So when I heard an upscale pizzeria would be opening up there, I thought it was genius. Drunks love pizza, but by putting a sightly fancier spin on it, you'll also draw the foodie crowd. Unfortunately, the new Slice doesn't quite live up to the image it wants to project.
First, the good news: Slice has an admirable commitment to local beer. Every tap at the bar (there are 10) dispenses an Alabama brew. Once Avondale Brewing Co. is up an running, the place will serve beers from every single brewery in the state. That is fantastic, and I commend it.
They've got a lovely spot set up to drink that beer, too. Ample patio seating (with umbrellas, thank God) covers decks on the front and side of the building.
Too bad I don't have anything as positive to say about the food. To be fair, I sampled the place on its second night in business, in fact before the official grand opening. But I found some major flaws.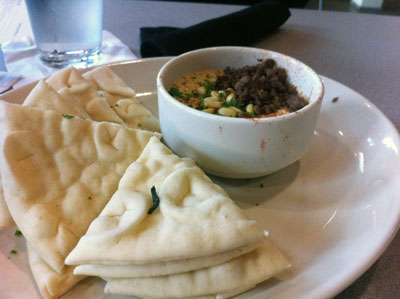 We started with the hummus. Seems like an odd thing to be on a pizza menu, but it's one of just four appetizers listed, and the fact that it comes topped with ground lamb and pine nuts was intriguing. The dish showed up paired with fresh pita instead of the pita chips on the menu (that's a good thing in my book), but it tasted exactly like the plastic-tub hummus you get at the grocery store, albeit topped with some completely unseasoned lamb and a spoonful of pine nuts. I have nothing against plastic-tub hummus, but if you only offer four appetizer choices, you shouldn't waste one on something so boring and out-of-place.
Thankfully, the pizzas were tastier than the hummus. We sampled two pizzas. Both were solid pies. The homemade crust was nice and chewy and baked to a bubbly brown.
The Very Veggie (above) was covered with artichoke hearts, spinach, mushrooms, kalamata olives, onions, peppers, garlic, and feta, but didn't suffer from the sogginess that often happens when that many toppings crowd a pizza.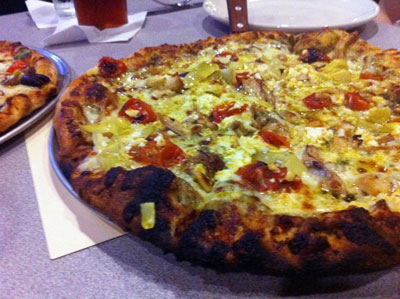 As for the second, we actually ordered the Basic Pesto, which has sausage, peppers, goat cheese, and onion, but we got the Pollo Pesto, which comes with chicken, artichoke, cherry tomatoes, and pine nuts (though ours also didn't have any pine nuts). I'll chalk that mishap up to new-restaurant jitters—no harm, no foul. There wasn't a heck of a lot of pesto under the cheese and toppings, but, again, this was a pretty good offering.
So mediocre hummus, decent pizza: What's so disappointing? The prices. A 12-inch pizza at Slice (which will feed two people pretty easily) will set you back between $14 and $22. For that amount, I'd expect locally grown veggies, house-made sausage and cured meat, imported buffalo mozzarella, something to set it apart.
This is a serious case of not knowing your audience. If Slice hopes to draw people that won't have a problem dropping a Jackson on a single pizza, there needs to be something extra-special about that pizza. And if it wants to draw in the fratboys from Barking Kudu and Innisfree, it needs to offer a lot more value. As it stands, you can get a comparable pie for less money by calling up a chain joint and having one delivered to whichever bar you're chugging Coors at.
For the sake of Alabama's fledging beer industry, I hope Slice stays in business. But there's also no way in hell that veggie pizza is worth $16.