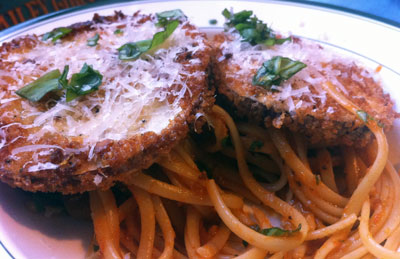 It's July, which means my CSA is filled with far too many tomatoes. (Seriously. Even if Nadria and I both loved the things, four pounds a week is more than two people can possibly handle. If anybody out there wants some delicious heirloom tomatoes, let me know.)
But that also means it's eggplant season. And that means I get to make my favorite deceptively easy dish. Eggplant Parmesan is pretty much idiot-proof and takes half an hour, but it'll blow the mind of whomever you serve it to.
A few notes on my method:
I salt the eggplant and let it drain for a little while before cooking. Received cooking wisdom says this draws out bitterness. I don't know if that's true, but it does seem to soften the texture, and I like my eggplant Parm crisp on the outside and kinda mushy within. You can skip it if you want.
Don't use white-skinned eggplant for this recipe. The skin is thicker than its purple or green cousins and becomes leathery when cooked. (If you only have white, you can peel it, but I can't vouch for that.)
The combo of panko and Parmesan cheese gives the eggplant a lovely crisp crust and browns really well. Regular breadcrumbs seem to absorb more oil, and you'll end up with a greasier end product.
So how to serve eggplant Parm? The simplest way is on top of some cooked pasta tossed with marinara sauce (there's a recipe in my All-Purpose Tomato Sauce post) and topped with sliced fresh basil and grated Parmesan cheese. Or you can do the same with pesto instead. But the most decadent way to serve it is this: Toss two servings of cooked long pasta (linguine, spaghetti, whatever) with a generous amount of marinara sauce, then top with the fried eggplant slices and more sauce. Then cover everything with lots of grated mozzarella and throw it under the broiler unti melty and browned.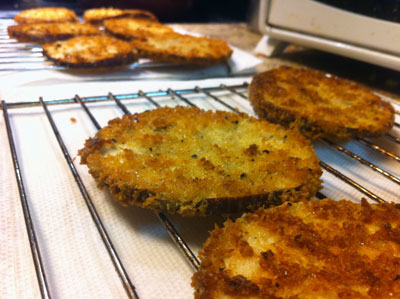 Eggplant Parmesan
1 large eggplant, sliced 1/4-inch thick
Vegetable oil, for frying
1/2 cup flour
1 egg
1 cup panko
1/2 cup grated Parmesan cheese
1 tsp. oregano
1/2 tsp. salt
1/2 tsp. freshly ground pepper
Generously salt the eggplant slices and place in a colander in the sink to drain for 15 minutes. Rinse thoroughly, blot dry with paper towels, and set aside.
Fill a large skillet with a 1/4-inch layer of oil and heat over medium heat.
Spread the flour on a small plate. Beat the egg with 1/4 cup water in a shallow bowl. Stir together the panko, Parmesan, oregano, 1/2 tsp. salt, and pepper on a separate small plate.
Dredge the eggplant slices in the flour, then dip in the egg, then dredge in the panko mixture. Fry in batches for 2 to 3 minutes per side or until nicely browned. Drain on a wire rack set over paper towels.