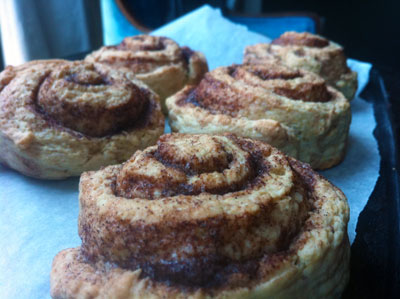 Necessity is the mother of invention. The other day, Nadria asked for cinnamon rolls, one of her favorites. I didn't want to run out to a bakery, and by the time your standard yeast-raised rolls would have been ready it would have been past lunch, so I came up with a cheating solution that tasted pretty delicious.
Homemade biscuits are stupidly easy to bake, thanks to the Chicago Biscuits in Michael Ruhlman's Ratio. (The ratio of flour to butter to liquid is 3:1:2; Chicago's area code is 312. Get it?) And at some level, all dough is dough, right? So why not roll out some biscuit dough, stuff it with cinnamon and sugar and turn it into cinnamon rolls?
And it worked. Now, the fact is that these will never be as good as the real deal, but on the upside you could actually make them for breakfast in the morning on a weekday. Seriously: It's maybe 10 minutes of work, plus 20 minutes of baking. Try it!
These were pretty tasty unadorned, but if you like a gooey glaze on your rolls, mix together equal parts lemon juice (or water) and powdered sugar, and drizzle on top after baking.
Biscuit Cinnamon Rolls
Makes 6 rolls
4.5 oz. AP flour
1 tbsp. baking powder
1/2 tsp. salt
6 tbsp. sugar, divided
4 tbsp. butter, divided
3 oz. (1/4 cup plus 2 tbsp.) milk or buttermilk
2 tsp. ground cinnamon
Preheat the oven to 400°. Stir together the AP flour, baking powder, salt, and 2 tbsp. of the sugar in a small bowl. Cut 3 tbsp. of the butter into small pieces and cut into the flour mixture with a pastry cutter or your fingers until the mixture resembles sand. Stir in the milk or buttermilk until a dough forms.
Knead the dough for 30 seconds or so on a floured surface, and then roll into a rough rectangle about 12 by 3 inches. Melt the remaining 1 tbsp. butter and spread evenly over the dough. Stir together the cinnamon and the remaining 4 tbsp. sugar, and sprinkle evenly on top of the butter. Roll up the dough lengthwise, pinching the end to seal.
Slice the dough roll into 6 equal slices and place on a baking sheet lined with parchment or a Silpat. Bake for 20 minutes or until the rolls just begin to brown.