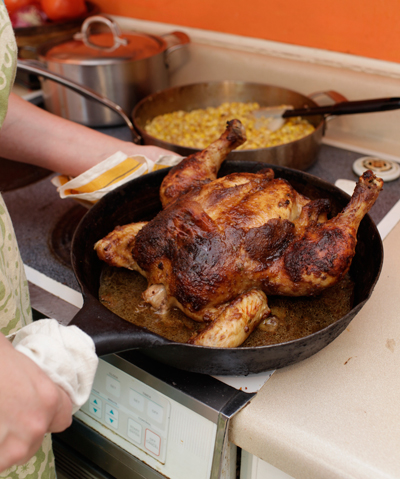 A confession: I did not take the picture above. But I did make the dish. (My far-crappier photo is below.)
I've now reached the level of blog-notoriety where I get free stuff! And so far, the best cookbook I've received is a copy of A Southerly Course: Recipes & Stories from Close to Home by Martha Hall Foose from the good people at Clarkson Potter.
What I like about this book is that it comes from the modern South. I don't mean it's modern Southern food—"deconstructed" pimento cheese sandwiches and the like are nowhere to be found. I mean it reflects the way people in the South actually eat. It's not all fried chicken and black-eyed peas; Asians, Greeks, Mexicans, and plenty of other people live here and have made their mark on Dixie's cuisine.
A Southerly Course presents dishes you'd expect, like crawfish bread, dirty rice, and custard pie, alongside chiles rellenos, kibbeh, Greek salad, and Korean-style grilled scallions. The recipes are elegant and just a touch fancier than most Southern cookbooks. And they come with fun stories and reminiscences that explain where they all come from.
I do have one objection: Not a single recipe in this book calls for okra. And I got my copy when a full pound of it was showing up in my CSA box every week. But that's not really Martha Hall Foose's fault.
The recipe that immediately lept out at me was the peanut chicken. I'm a sucker for anything peanut-flavored, whether it's Reese's Peanut Butter Cups or Ollie Irene's wonderful Tallulah cocktail. It's an easy recipe: Coat a whole chicken with a paste made of peanut butter, onion, soy sauce, and vinegar, then bake. The mixture really perfumes all the meat nicely with a subtle, vaguely Asian, nutty flavor. (Leftovers make for a really interesting chicken salad, to boot.)
I had a couple CSA pumpkins on hand, so I also tried the book's baked pumpkin recipe as a side. It's also simple: Brush the inside of the squash with a mix of melted butter and maple syrup, and roast. Sounded good, didn't really work. The sauce ends up pooling in the bottom of the pumpkin and you end up with three bites of deliciousness, plus a whole lot of bland pumpkin. Ah well. The chicken redeemed it, anyway.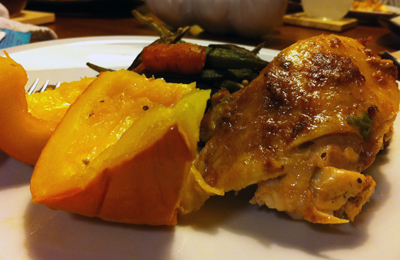 Peanut Chicken
Adapted from A Southerly Course by Martha Hall Foose
5 tbsp. creamy peanut butter (use natural if possible)
3 tbsp. soy sauce
2 tbsp. rice vinegar
1.2 tsp. cayenne pepper
3 green onions, chopped, divided
1 (3- to 4-pound) chicken
1 (1-inch) piece fresh ginger, peeled
2 garlic cloves
Preheat the oven to 450°.
Stir together the peanut butter, soy sauce, vinegar, cayenne, and half the green onion in a small bowl. Spread half the paste under the skin of the breasts of the chicken. Spread the remaining paste all over the outside of the chicken. Stuff the remaining green onion, the ginger, and the garlic into the chicken's cavity.
Place the chicken breast-side-down in a roasting pan and bake for 20 minutes. Reduce the oven temperature to 325° and flip the chicken over. Bake until a meat thermometer inserted into the deepest part of the thigh reads 165°, 30 to 40 minutes more. Remove the chicken from the oven, cover, and let rest for 10 minutes before carving.