I went on a crazy, gluttonous weekend trip to Atlanta for my birthday last month, and I fell in love. Yeah, there were some great cocktails, and a really cool late-night Asian restaurant, and a stunning $2 banh mi (more details here), but it was one dish that's been my obsession ever since.
The "In Jars" appetizer at Empire State South includes boiled peanut hummus. Boiled. Peanut. Hummus. Boom: Mind blown.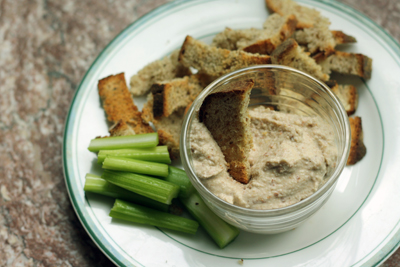 I have no idea why nobody had thought of this magical concoction before, but holy crap is it delicious. On bread, on celery, with your fingers, just licking the damn food-processor blades, whatever.
And my apologies to chef Hugh Acheson, but I had to rip it off.
(Yankees, you may not understand what boiled peanuts are, and for that I pity you. They're green peanuts boiled in salted water and eaten hot in an explosion of salty, legume-y goodness, but only in the South for some reason.)
Thankfully, Birmingham has a local source for fresh boiled peanuts every day but Sunday: the Peanut Depot.
I knew the original dish contained tahini, but beyond that I had to wing it for this recipe. I figured the basic idea is to swap out peanuts for chickpeas in regular ol' hummus, so I added some lemon juice, but I left out the olive oil since peanuts have plenty of fat on their own. Adding a little water  and running the food processor for a good, long time yielded a nice, smooth puree, but something was missing. I think maybe my batch of peanuts had been boiled too long, as they were really salty and not, well, peanutty enough.
Enter unrefined peanut oil. This isn't the flavorless, high-smoke-point liquid you might fry fish in; this stuff tastes strongly like roasted peanuts. You open the jar and the kitchen will instantly smell like 'em. Just a little splash perfected my hummus.
Soon after I made this, I discovered that Acheson's actual recipe was in Southern Living four-and-a-half years ago. Ah, well. I did a pretty good job—Acheson adds garlic and cayenne, doesn't use peanut oil, and boils the nuts himself with Old Bay and star anise, but the basic bones are there.  I dunno if garlic would really add much to this recipe, but pinch of cayenne might have been a good idea. My peanuts were also plenty salted to start with and didn't need any extra added, though your mileage may vary.
Note that this recipe starts with a pound of boiled peanuts in the shells. I forgot to weigh them post-shelling, but I probably had about three quarters of a cup.
Boiled Peanut Hummus
1 lb. boiled peanuts, shelled
2 tbsp. water
2 tbsp. tahini
Juice of 1 lemon
1-2 tsp. unrefined peanut oil
Add all the ingredients to a food processor and puree until completely smooth, stopping periodically to scrape down the sides. If the mixture remains chunky, add up to 2 tbsp. more water, a little bit at a time.