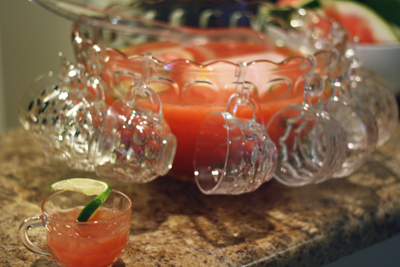 Being as how I work for Liquor.com, I'm usually called upon to make drinks at parties.
Okay, what I mean is I force everybody to try the fancy drinks I make instead of just mixing bourbon and diet soda. But the fact remains that making drinks all night is no way to enjoy any kind of festivities.
Enter punch. People have been enjoying big bowls of boozy conviviality for almost 500 years.  (Really. There's a whole book about it—a good one, might I add.) And making one ahead of time frees you up to enjoy your own party, not to mention impresses your guests (and gets them nice and toasty).
For my Fourth of July party, I wanted something light and summery but still a little exotic.
I had a bottle of pisco on my cart left over from the samples I called in for this story (it's a tough life, being a spirits writer), which fit the bill nicely. Pisco is a grape-based brandy from South America (Chile and Peru fight over who invented it). Unlike the more famous brandy, cognac, it's not aged in wood for very long, so it's clear, and it has an earthy, yeasty character that matches really well with fruit flavors. In other words, it's a wonderful unusual summer-cocktail ingredient.
And one of the most famous pisco cocktails just happens to be Pisco Punch. But this is Alabama, and I'm into eating local, so I made my own version, swapping the pineapple juice for two of the South's most delicious hot-weather crops: watermelon and peach. And for a little zing, I added another thanks-to-my-job sample: Cocktail Kingdom's Falernum Bitters. Spicy with clove, black pepper and ginger, it's a perfect seasoning for any tiki, tropical, or otherwise extra-sweet drinks.
So how are you supposed to get watermelon and peach juices? Easy—your blender or food processor. Watermelon pulverizes in seconds into a watery puree (you don't even have to take the seeds out, though you should cut off the rind) that strains quickly and easily. Peach takes a little longer: Pit the fruit, puree it (skin and all), and use a spatula to push it through the strainer. You'll end up with a concentrated nectar that's almost thick enough to eat with a spoon (resist the temptation) and just aches to be mixed with liquor. (You could just use peach puree instead of straining it, but this punch will end up pulpy).
Dixie Pisco Punch
Serves 10 to 12
Sliced citrus or other fruit (optional)
1 (750-mL) bottle Pisco
20 oz Watermelon juice (from about half of a medium watermelon)
8 oz Peach juice (from about 6 peaches) 12 oz Lime juice (from about 8 limes)
4 oz Simple syrup (one part sugar, one part water), plus more if needed
20 to 30 dashes Cocktail Kingdom Falernum Bitters
Fill one or two 1-quart containers with water (and slices of citrus and other fresh fruit, if desired) and freeze overnight until solid. Add all the ingredients to a large bowl and stir to combine. Taste, and add more simple syrup if needed. (Remember that after you add ice, the punch will not be as strong, so go easy on the simple syrup.) Chill until ready to serve. To serve, pour the punch into a punchbowl. Run warm water over the outside of the frozen containers to loosen the ice blocks, pop them out of the containers, and add them to the bowl. Serve in small punch cups or wine glasses.