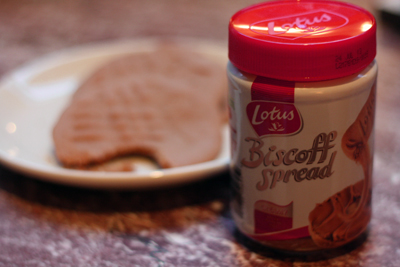 There's only one good thing about air travel these days, and it's a cookie.
If you've flown Delta recently, you know what I mean: Biscoff. A delicious, Belgian-made, cinnamon-tinged crunchy little thing, of which I always ask the flight attendant for seconds. I honestly wasn't sure if I enjoyed them so much just because they were the only respite from the soul-crushing experience that is flying on an airplane or if I might still like them under 35,000 feet. Content to let the mystery be a mystery, I never ordered any off the internet (which seems to be the only non-aviation-related place in America you can buy them).
But then I was walking down the peanut butter-and-cereal aisle at my local Publix and saw a familiar red logo. Biscoff Spread. Assuming this would be some horrible concoction of shortening and sugar, I turned the jar around. The first ingredient listed? Biscoff cookies.
This stuff is literally ground-up Biscoff cookies, mixed with extra sugar and oil. It's smoother than peanut butter, and good lord is it magnificent. (There's also a chunky version, which I haven't tried yet.)
We had just been eating it by the spoonful when the lit-theory-class/post-modern sector of my brain said, "What if you took this cookie spread, and made it back into cookies?" And thus, Meta-Cookies. Cookies made out of cookies.Given the stuff's consistency (and location in the grocery store), peanut butter cookies were the obvious starting point. I grabbed a basic recipe and made a couple alterations, cutting the sugar and adding a little extra oil (since Biscoff Spread has a lot more sugar and somewhat less fat than peanut butter). I also ended up having to cook them almost twice as long to get the crunchy texture I like in a peanut butter cookie—not sure why that is, but such are the mysteries of Meta-Cookies.
Don't expect these things to taste like peanut butter cookies: They're all about sweetness and cinnamon, with none of the roasty or nutty flavors you'd expect. Biscoff Spread is also a lot softer than peanut butter, so the cookies spread out during baking more than I planned for. Just leave plenty of room on the pan and you'll be fine.
Meta-Cookies
Makes about 18 cookies
1/2 cup (1 stick) unsalted butter, at room temperature
2 tbsp. vegetable oil
1/4 cup granulated sugar
1/2 cup packed brown sugar
1/2 cup Biscoff Spread
1 egg
6 oz. all-purpose flour
3/4 tsp. baking soda
1/2 tsp. baking powder
1/4 tsp. salt
Beat the butter and oil in an electric mixer on medium speed with the paddle attachment until fluffy, about 2 minutes. Add the sugars and beat until fully combined, about 1 minute more. Scrape down the sides of the bowl, add the Biscoff Spread and egg, and beat until fully combined. In a separate bowl, stir together the flour, baking soda, baking powder, and salt. Add to the mixer and beat on low speed until just combined. Cover the mixer bowl and refrigerate for at least 30 minutes or up to overnight.
Preheat the oven to 300°. Scoop out about 2 tbsp. of dough, roll into a ball, and place on a baking sheet lined with a silicone baking mat or parchment paper. Repeat with the remaining dough, spacing balls about 2-3 inches apart. Press down each ball with the back of a fork in a cross-hatch pattern. Bake until the edges begin to brown, about 18 minutes. Remove from the oven and let cool on the baking sheet for about 5 minutes, then transfer to a cooling rack and let cool completely.