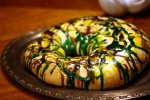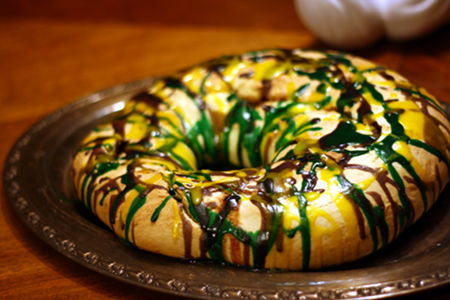 New Orleans is home to lots and lots of awesome food, and plenty of it is stuff most tourists never get to enjoy. Take Cake Cafe, a wonderful bakery and breakfast spot in the Marigny neighborhood. When I lived in the city pre-Katrina, I hadn't even heard of this place; it was only on a trip a few years ago that a friend who lives nearby took me there.
So I was surprised to see the place mentioned on Serious Eats, in a post about its apple-and-goat-cheese-filled king cake. This thing is pretty decadent: cream cheese filling, goat cheese, brown sugar and cinnamon, and apples—it's like four king cakes in one!
Too bad Serious Eats didn't score an actual recipe. So I had to come up with one myself. I started with the dough from CHOW with a few adjustments (mine's a bit sweeter, and theirs doesn't measure the flour by weight, plus I went with a mix of almond and vanilla extract), and then kinda winged it based on Serious Eats' photos.
The result was a pretty huge success, if I do say so myself. The tangy cheese and tart apples combine beautifully in the filling, whose richness provides a nice counterpoint to the bready cake. (Don't take this as a knock; king cake is supposed to be bready.) Continue reading Apple-Goat Cheese King Cake →