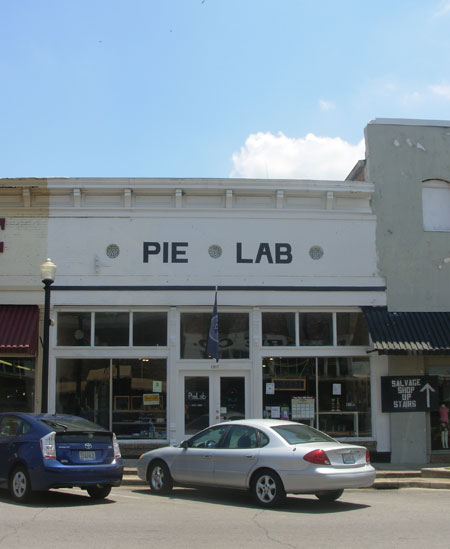 Today I drove three hours round-trip to a small town in the middle of nowhere just for some pie. But not just any pie.
Since it opened about a year ago, PieLab, in Greensboro, Ala., has been getting all kinds of national press, though not solely because of its delicious pie. It's a combination pie shop, design studio, business incubator, and community center dedicated to helping the people of West Alabama. It was created by Project M, a group of designers and architects doing community-focused projects all over the world. PieLab was even nominated for a James Beard Award for Best Restaurant Design this year. (It didn't win, but it certainly marked the first time a rural-Alabama restaurant was considered.)
So, socially-conscious creative types trying to improve life in a county where a quarter of the residents are below the poverty line; doesn't sound like they'd be any good at making pie, right?
Wrong.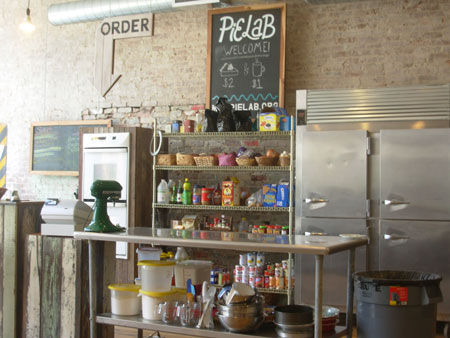 Aside from its gorgeous interior, complete with long tables and huge rolling storage units made from reclaimed wood, vintage broken jukebox, and drinks served in Mason jars, PieLab honestly makes some completely awesome pie, from scratch, right there in the shop. (That little double oven behind the Kitchenaid in the photo above is where the pies come from.) The pies may not look pastry-school perfect, but the taste makes up for that.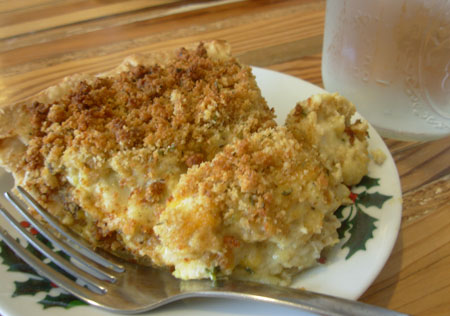 Nadria and I sampled both sweet and savory pies, starting with this chicken pie. This was my favorite of the day: cheesy, creamy, oniony, and topped with a nice thick layer of browned and crisp breadcrumbs. Like all the pies, its crust was flaky, buttery, and perfect. And it was served still warm from the oven.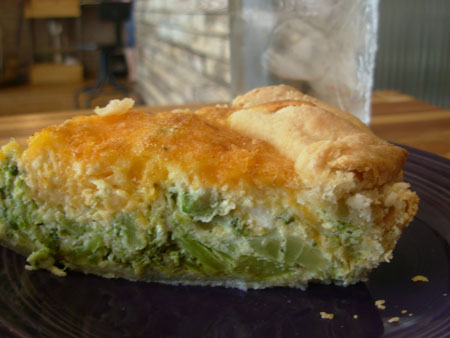 The broccoli and cheddar quiche was not quite as excellent as the chicken pie, but it was a solid offering, with generous amounts of both broccoli and cheese, as you can see. This thing was baked in a deep-dish pie pan; it had to be a good two inches thick! But the crust was cooked through underneath and gave a nice crispy contrast to the tender quiche.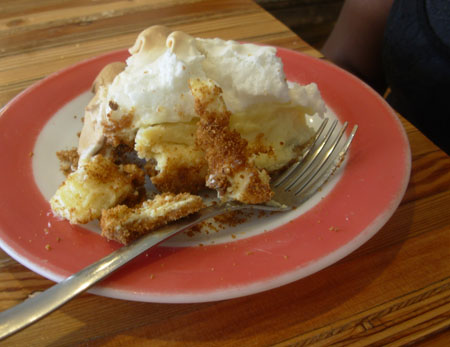 On the sweet side, the lemon meringue pie looked beautiful, with a fluffy layer of deeply browned meringue atop a thick and sweet filling that wasn't quite as lemony as I would have liked. To be honest, though, the lemon meringue pie was only mediocre. Delicious, but not drive-three-hours delicious.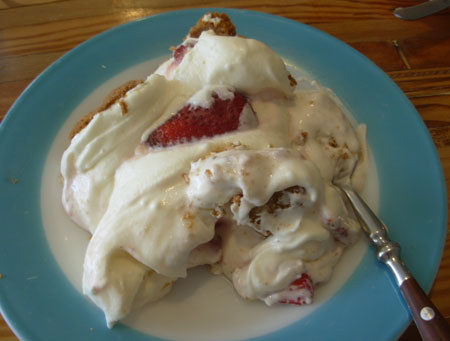 However, that may just be in comparison to this incredible strawberry cream pie. Coming out of the pan, the thing was a mess; the filling didn't hold together well, and was really more of a pudding. But it didn't matter after I tasted it. It was a super-sweet, vanilla-y whipped cream with big slices of fresh strawberry mixed in, atop a perfect graham-cracker crust. (It held together despite the loose filling, which I find amazing considering I can't get a cracker crust to hold together ever.) There was undissolved sugar mixed into the cream, which sounds like a bad thing, but in practice made it taste like every bite was full of crumbly graham-cracker bits.
So, four pieces of pie, $8, and not quite 200 miles later, I can tell you that PieLab is worth the trip. I'll be back. Sadly, there's not a heck of a lot else to do in Greensboro; a good 80 percent of the Greek-Revival storefronts along the three blocks of downtown are empty. But if you're an architecture buff, you can check out the projects created by Auburn's Rural Studio. And there's the Indian burial mounds at Moundville Archaeological Park a few miles down the road.