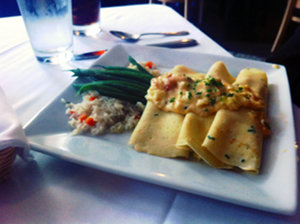 When I read the Birmingham News report about Bistro Two Eighteen, I have to admit, my feelings were mixed.
It's a new restaurant downtown (yay!) in a historic building (yay!) from a Birmingham-born, culinary-school-educated chef (yay!) with a that's only open for lunch and during the week (boo!) and has a weird confusion of a "French" menu that includes classics like quiche Lorraine as well as burgers and gumbo (boo!).
I stopped by for lunch last week (the restaurant's second in business), and I'm glad to say the food is better than expected! The place is similar in feel to Chez Fon Fon and Chez Lulu but with lower prices than the former and larger portions than the latter.
The food is mostly French, though there's gumbo on the menu and they were playing New Orleans jazz, so maybe they're going for a little Creole influence too. And for some strange reason, they have shrimp and grits available as an appetizer. I understand you're in the South, but if you're going to be a French restaurant, be a French restaurant.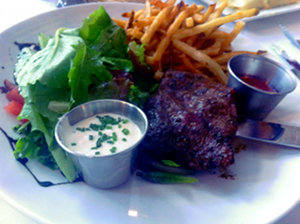 The specialty of the house seems to be steak frites—you can't go wrong with meat and fries. It's a pretty good portion of flatiron steak, with two options of sauce: horseradish cream or chausseur (a mushroom, tomato and tarragon combo). I ordered mine medium, and it came out exactly right, paired with a simple salad. And those fries are excellent: skinny and super-crunchy, and they stay that way even after they cool off. The whole deal is $12, a bit steep for an everyday lunch but a very good price for what you get.