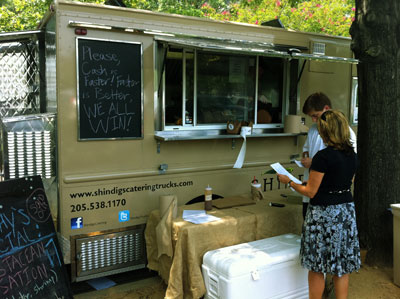 I think food trucks have finally hit the tipping point in Birmingham. Food trends seem to get to this town about five years or so after they break in New York, LA, and San Francisco, so the timeline is about right.
I'm not sure what critical mass is for a city this size, but we're creeping toward having 10 trucks out on the road, and locals are starting to get interested. There are the two taco trucks (West Valley Ave. and Tarrant), Spoonfed Grill, Cantina on Wheels, the Dreamcakes cupcake truck, and the NOLA Ice sno-ball truck. (If you know of any others, leave a comment!)
And now joining that crowd is Shindigs. A catering company started by a pair local restaurant veterans, Shindigs joined the mobile-cuisine world a couple weeks ago with the truck you see above. It's been catering to the UAB crowd during the week, parking on 20th Street between 6th and 7th Avenue South, and heading to Railroad Park on Saturdays.
Reading Shindigs' menu and cooking philosophy gives me foodie goosebumps: It's committed to using local, organic produce and humanely raised meats; its burger buns are custom-baked at Continental Bakery; there's even a truck-made veggie burger!
So I had to check it out, and picked up lunch last Friday. The food is damn promising, but some of it, especially that veggie burger, could use some work.