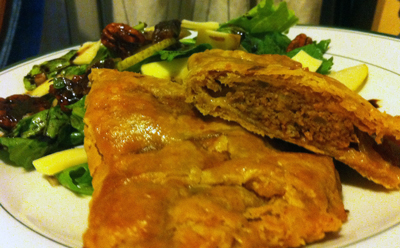 Charcutepalooza is a yearlong project I'm participating in to make recipes from Michael Ruhlman's Charcuterie: The Craft of Salting, Smoking, and Curing. For more information, see my introductory post.
The recipe option that immediately jumped out at me from this month's assignment was English Pork Pie. I mean, pork and pie—what's not to love?
That third word, that's what. Taking a closer look at the recipe, I found it to be, well, too English. Which is to say, bland. The pastry crust has no salt in it at all! The pork is seasoned with a little thyme and pepper and nothing else! No wonder British food has such a bad reputation.
So I went to Spain instead. Last time I made chorizo for Charcutepalooza, it was the spicier Mexican version. This time, I looked to Ruhlman's Spanish-style chorizo recipe, which he uses to make a dry-cured sausage. Basically, it swaps various types of chile powder and cumin for smoked paprika, AKA pimentón, my most favoritest spice.