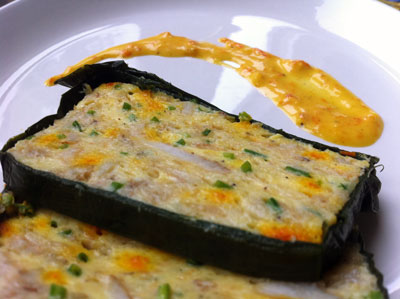 Charcutepalooza is a yearlong project I'm participating in to make recipes from Michael Ruhlman's Charcuterie: The Craft of Salting, Smoking, and Curing. For more information, see my introductory post.
Making a seafood terrine, especially this one, is an expensive proposition. Scallops, crabmeat, saffron: It's like they picked out all the priciest items at Whole Foods. But the alternative for this month's challenge was head cheese, and as much as I would have enjoyed doing that, Nadria made it very clear that no pigs' heads were going to be allowed in our apartment. (Also, I have no idea where one can acquire a pig's head in Birmingham.)
So seafood terrine it was. This is a seriously old-school dish, and everything about it reminds me of Driving Miss Daisy and ladies who lunch. But it tastes good, and it looks lovely. A platter of slices paired with a nice sauce (more on that later) make an impressive start to a fancy dinner party.