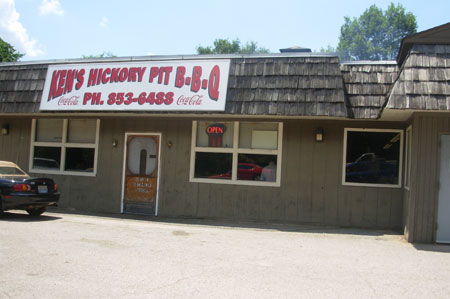 (Thanks to Jonathan Dorough for suggesting Ken's.)
To get to the Center Point campus of Jefferson State Community College, you get off I-20/59 at Highway 79 and drive northeast for like 15 miles. I've been out there many times for culinary classes, but that whole region remains a mystery to me. I did try the taco truck on 79 in Tarrant, about halfway between Jeff State and the interstate (very good, though the one on West Valley is a bit better), but there's a huge, relatively densely populated area that's gotta have all kinds of stuff to do, right?
Well, thanks to a friend that grew up in Tarrant, I know of at least one place to eat.
Ken's Hickory Pit BBQ is about half a mile past Jeff State's campus on 79 (if only I had thought to drive past the school when stopping for dinner on the way to class instead of settling for the Golden Rule on the other side of campus). Like all great barbecue joints, it doesn't look like much: a run-down shack with a gravel parking lot. But pull in and you'll know something's up. There's a huge pile of logs out back, and you can smell the smoky goodness from at least 1,000 feet away.
What makes Ken's different is its sauce. I won't get into a debate over barbecue styles here, but it's not the white sauce or thin, vinegary stuff that's most popular in these parts. It's thick, sweet, and spicy, with molasses and tons of pepper. Paired with well-smoked chicken, pork, or sausage, it's great. (Ken's makes ribs too, but we didn't get to try those.)
The chicken isn't shredded like at most places; it comes in large, juicy chunks. It's something more barbecue joints should try. The pulled pork is just right, falling-apart tender with bits of crusty exterior mixed in. The sausage tastes like smoked sausage, which is to say pretty good, but the chicken and pork stand out.
A barbecue plate comes with white bread, slaw (not great), fries (a little soggy), and some very tasty baked beans. They're cooked in a spicy, mustardy sauce with lots of bacon. Sides really aren't what's important for me when I eat barbecue, but these beans are excellent.
I'm a fan of Ken's; if you're ever looking for a change from the typical Birmingham barbecue, it's well worth a trip. (Though Miss Myra's and Saw's are still #1 and #2 in my book.)
Ken's Hickory Pit BBQ is at 4817 Pinson Valley Parkway (aka Highway 79). Their phone number is 205-853-6488.