I love the Chinese way of cooking eggplant—long cooking that leaves it silky-smooth and richly flavored with whatever sauce you've simmered it in (which is to say mushy, but mushy in a good way.) I also love the posts from Kenji Alt on Serious Eats: They're alternately nerdy food-science pieces, really useful how-tos, and great reliable recipes for authentic Asian food. (Also, he has a kickass-sounding name.)
Both of the above came together tonight with Kenji's Sichuan-Style Braised Eggplant. His version contains ground pork, but I made a meatless one using dried TVP instead (find out all about that in my Sloppy Faux post). I also didn't have enough eggplant, so I stretched it with some bell pepper, which goes very well with the sauce.
It's a nice dish, full of lots of flavor and with just the right heat level, plus there's a nice thick sauce, which makes it excellent to serve over rice. Some of these ingredients sound obscure, but you can get all of them at any of the Asian markets in town (the Super Oriental Market, which shares a building with the Red Pearl restaurant on West Valley, is my personal favorite).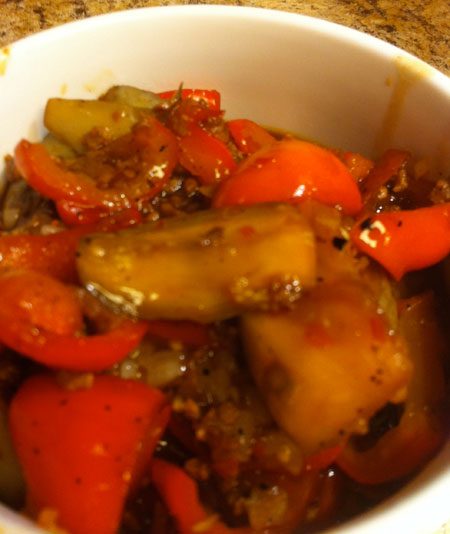 Meatless Sichuan-Style Braised Eggplant (adapted from Serious Eats)
4 small or 2 medium eggplants (white or purple, doesn't matter)
1/3 cup ground beef-style dried TVP (or 4 oz. frozen soy crumbles)
1/4 cup mirin
2 tsp. cornstarch
3/4 cup chicken stock
1 tbsp. chile-bean paste
3 tbsp. soy sauce
2 tbsp. cider vinegar
1 tsp. sugar
1 tsp. chile oil, plus more to taste
1 tbsp. canola oil
2 large or 4 small red bell peppers, chopped
2 tbsp. fresh ginger, finely chopped
4 garlic cloves, finely chopped
Slice eggplant into 3 x 1/2-inch batons. Steam in a bamboo steamer set in a wok 15 minutes or until quite soft but not completely falling apart. Remove from wok and set aside.
Meanwhile, whisk together mirin and cornstarch until smooth. Add stock, chile-bean paste, soy sauce, vinegar, sugar, and chile oil and stir until combined. Stir together TVP and 1/3 cup hot water in a small bowl. (If using frozen soy crumbles, skip this step.)
After eggplant is steamed, pour water out of wok and set over high heat. Add canola oil and heat until beginning to smoke. Add pepper and stir-fry until skin begins to blister and pepper starts to brown, 3-4 minutes. Add garlic and ginger and stir-fry 30 seconds. Add TVP or soy crumbles and stir-fry 30 seconds more. Add eggplant and sauce mixture, and bring to a boil. Reduce heat and simmer 20 minutes, stirring occasionally, until sauce is thick and glossy and pepper is soft.