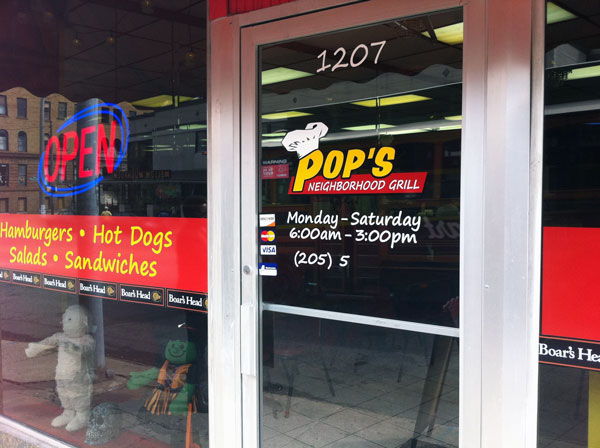 Despite being home to some of Birmingham's best and most successful restaurants, Five Points South seems to have a whole bunch of cursed locations. Witness the former homes of The Mill, Fire & Ice, Twist & Shout, and Ruby Tuesday (and that Mexican place whose name I can't remember that was next to where Camp Taco is now): All have gone through many incarnations that all failed, and all have been sitting empty for between a month and more than a year.
If you don't have your shit together, Five Points will eat your restaurant alive.
Into this sea of potential doom wades Pop's Neighborhood Grill, which had its soft open late last week. Its 20th Street location previously housed Pyramid Deli & Grill and Kohinoor, both pretty good places to eat that just didn't really catch on. Pop's still has some kinks to work out, but I think it's on track to succeed.
The main reason for this is its hours. Pop's is open for breakfast and lunch Monday through Thursday, but it stays open until 2 AM Friday and Saturday nights (err, Saturday and Sunday mornings—you get the idea). Right now, there's no place nearby for all the bar patrons to get a quick bite after last call. (Sorry, I'm not calling famed after-hours burger spot Marty's quick.) Pop's might just make its living after midnight two days a week, and if that works I'm fine with it. (And I'm much happier having the drunks stagger to Pop's than drive to the 24-hour Purple Onion or Al's a half-mile away.)
The place is your basic burgers-and-hot-dogs joint, but quality ingredients seem to be of the highest priority. They use Boar's Head deli meats and (according to the menu) locally grown produce. Prices are pretty good—five to seven bucks for a six-ounce burger or deli sandwich, two to three bucks for a dog—which is a good idea for a place that's gonna be serving a lot of quick lunches.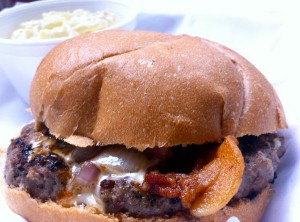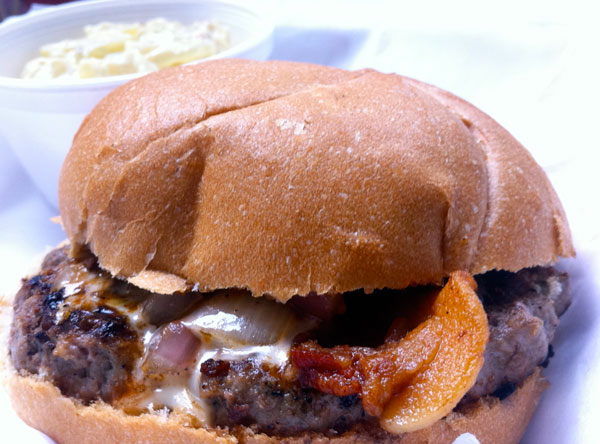 Today, we tried a bacon mushroom burger and a Vulcan, Pop's version of a Philly cheesesteak. The burger is nice and thick, served still a tiny bit pink in the center so it's still juicy, the bacon was actually crispy, and the whole thing was topped with a generous pile of sauteed chopped mushrooms and onion. But the biggest points Pop's scored were for the burger's seasoning. I don't just mean that it was salted properly—it actually tasted like it contained spices, with a nice peppery flavor.
What supposedly makes the Vulcan different from a normal cheesesteak is that it contains Pop's special sauce, a thin, peppery concoction. I hardly noticed it on this sandwich, which is nonetheless a tasty cheesesteak. I liked that there were lots of pieces of sweet bell pepper mixed in.
Where Pop's went off the rail was the sides. Sandwiches come with chips, fries, cole slaw, or potato salad. The potato salad was your standard supermarket potato salad—I wouldn't be surprised if they bought it from Publix by the pound. But the fries were truly abysmal: completely soggy and greasy. There wasn't even a single crisp fry in the sad mass of stuck-together terribleness. Good fries are gonna be important for that late-night business: The most appealing drunk-food item is the Pop's Over the Top Fries, topped with roast beef, chili, cheese, slaw, onions, and Pop's sauce.
The breakfast menu looks pretty good. There's French toast, pancakes, omelets, and biscuit or bread sandwiches with every conceivable combination of egg, pork tenderloin, sausage, bacon, ham, and cheese. The FTBE piques my interest as well—it's bacon and egg between two slices of French toast. Good thing the place is four blocks from my apartment; I sense a morning walk to Pop's in my future.
Next time you're in Five Points at lunchtime or a weekend night, stop by Pop's and leave a comment with your experience. Just don't order the fries unless they tell you they've read this post and fixed 'em!