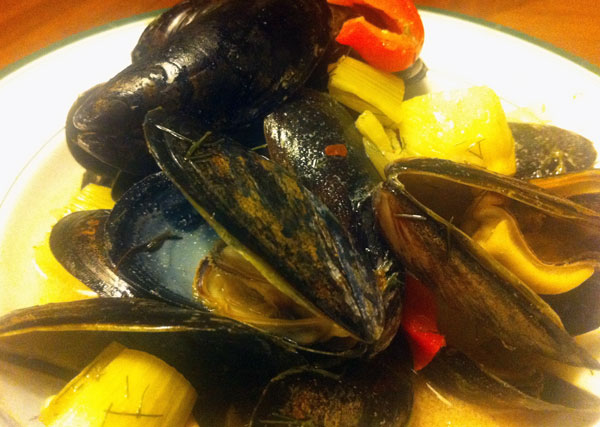 Like oysters and clams, mussels are best in cold months, meaning now's the best time to have 'em. They're my favorite bivalve, flavorful and really easy to cook. Mussels are an ideal shellfish for seafood beginners: neither slimy like oysters nor overly chewy like clams, and nice and cheap—I found 'em for about three bucks a pound. (Mussels are also mostly shell, so you need about a pound per person for an entree or a half-pound per person for an appetizer.)
Mussels cook really fast, making them a quick-and-easy dinner, but they don't keep well. Ideally, you should buy them as soon as possible before cooking—on the way home from work is perfect, but they can survive in the fridge for 24 hours or so if necessary.
The directions in most mussel recipes say the creatures need to be "scrubbed and debearded," which I'll admit sounds a bit off-putting. But in reality, most seafood markets pre-clean their mussels and there's very little you have to do. Just look through yours, discarding any that aren't tightly closed, washing off any visible dirt or sand, and pulling off any stringy "beard" bits sticking out of the shells.
To cook mussels, you just need a little liquid (something alcoholic, like beer or wine, is traditional), a little acid (wine or lemon juice), and some veggies. As the mussels cook, they open up and release their briny liquid, creating a tasty broth that's addictive soaked up with bread.
If you're using beer, try to avoid anything too hoppy, as the mussels will acquire hops' bitter flavor. A malty, dark Belgian or brown ale is your best bet—I used Sierra Nevada Tumbler Brown Ale in this recipe, and it was perfectly lovely.
One more note: Mussels don't keep as leftovers. Eat them all when you make them or throw them out.
Mussels with Fennel and Beer
Serves 2
1 large or 2 small fennel bulbs, with fronds attached
Olive oil
1 small onion, chopped
1 large or 2 to 3 small sweet red peppers, seeded and chopped
1/2 to 1 tsp. red pepper flakes
2 garlic cloves, peeled and minced
Juice of 1/2 lemon
1 (12-oz.) bottle beer
2 pounds mussels, scrubbed and debearded
Cut 2-3 inches off of fennel fronds, chop finely, and set aside. Remove remaining fronds and discard. Slice root ends off fennel bulbs and chop.
Heat a couple tablespoons of olive oil in a stockpot over medium heat and add chopped fennel bulb, onion, and pepper. Season to taste with salt and pepper, add red pepper flakes, and cook until softened but not browned, about 5 minutes. Add garlic and reserved fennel frond, and cook 30 seconds. Add lemon juice and beer, and bring to a boil. Add mussels, cover, and reduce heat to low. Cook 5 to 10 minutes or until mussels have opened. Taste broth and add salt if necessary.
Serve mussels and broth in large bowls with crusty bread and the same beer you used to cook them. (Or just eat them straight out of the pot.)