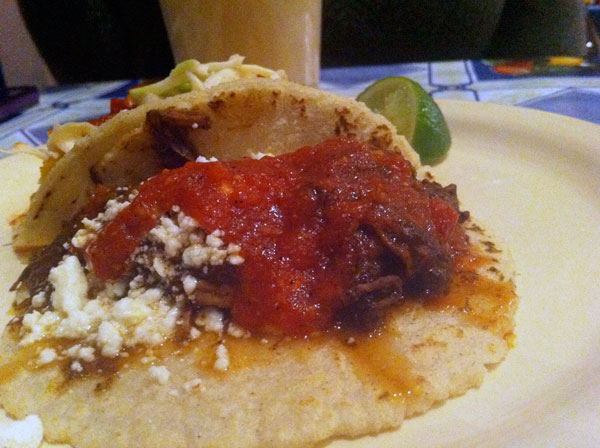 Last summer, I heard about a Los Angeles taco joint that was opening another location—in Homewood. Yes, Homewood. I even wrote about it in my September 2010 Birmingham magazine story about new Mexican food in town. At that point, it was supposed to open in October at the latest.
Well, it's a tribute to the great efficiency of the Jefferson County Health Department that Pinches Tacos finally opened the last day of January. It's essentially a test store for taking the authentic-Mexican-street-food chain national, and I think Birmingham will really enjoy it—with one caveat.
Pinches offers tacos, tortas, giant California-style burritos, sopes, and enchiladas, and essentially the same list of toppings/fillings for each. You can get all the standards: everything from nopal (cactus paddle) to beef tongue.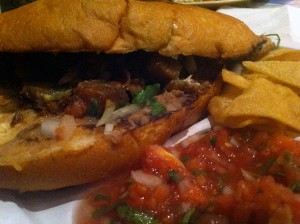 My favorite cheapie-Mexican food is the torta. It's probably sacriledge that I'm not picking something on a tortilla, but the meaty sandwich with refried beans, cheese, and veggies is a big comfort food to me.
I tried the carnitas torta (left) at Pinches. It comes nicely stuffed but still pick-up-able, and the bread isn't particularly distinguished but not bad. The meat itself is much more citrusy than other carnitas I've had: There's a pronounced note of orange  and lime.
I also tasted two tacos: The chicken mole (top) was the better of the two, with a spicy-sweet sauce that has a strong chocolate flavor. Jorge Anaya, the owner of Pinches, claims the recipe come from his great uncle who cooked for Pancho Villa during the revolutionary's campaigns at the beginning of the 1900s.
The fish taco, which is topped with what the menu calls "Veracruz cole slaw" (it's really more like shredded cabbage), is okay, but nothing special. On the upside, the fish isn't fried.
The new Pinches occupies a beautiful location at the corner of Oxmoor Road and 19th Street in downtown Homewood. There's a huge round window in front that lets in lots of light, and there's a good-sized patio that'll be great once the weather gets warm. Almost all the tables are two-tops, but an enormous round one dominates the center of the dining area.
As a quick-service Mexican restaurant where you order at the counter, Pinches' closest cousins in town are Moe's and Salsarita's, and it blows both of those out of the water. It's a lot like local independent Camp Taco (which I love) as well. The two are quite different—Pinches is much more authentic—but I can't rate one higher than the other.
Which brings me to that caveat. Pinches Tacos doesn't have a liquor license yet. I'm not asking for top-shelf margaritas shaken up by a master bartender (though that would be nice), but this place needs beer. I'm thrilled it's open for both lunch and dinner, but if its nighttime business is going to do well, there's gotta be Coronas or Negra Modelos to swig with your tacos.