(Read about The Thomas Keller Challenge project here. And don't miss my Thomas Keller vs. Frank Stitt Challenge guest post on Wade on Birmingham.)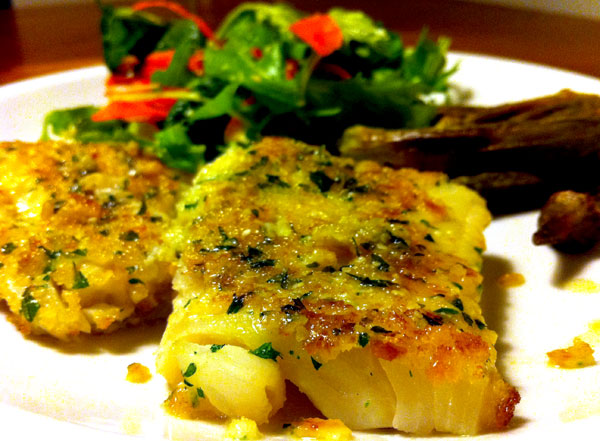 Persillade. Sounds great, doesn't it? So fancy, and elegant, and…French. Well, persillade is nothing more than parsley and garlic chopped together—it's most often paired with lamb.
In Chef Keller's hands, persillade becomes a simple mix of breadcrumbs and parsley that's sauteed onto pieces of cod or other white fish. It's a really nice preparation to show off really good, fresh fish, and it's quick and easy as can be. Just let me emphasize that fresh part. I made this with cod from my local Publix that wasn't what I'd call the greatest in the world, and it turned out a bit bland and fishy. Next time, I stick to Snapper Grabbers or Crestline Seafood.
You'd also expect the breadcrumb coating to come out crisp, and it really doesn't. I think that's because the recipe has you bake the fish coating side down. If you like crispy, try doing the intial sauté step as in the recipe, then flipping the fish before baking. That should keep the top good and crunchy. I also think a little chopped garlic thrown into the topping mix wouldn't hurt, either.
As a simple, light dish, this calls for simple, light sides; I made some roasted okra and a green salad with kudzu jelly vinaigrette. Both worked nicely. Chef Keller suggests carrot stew and asparagus as sides—I think they'd work too. Really any vegetables (or potatoes) would be good here.
Cod en Persillade
Adapted from Ad Hoc at Home (aff. link) by Thomas Keller
1/2 cup breadcrumbs (I used panko)
1 tbsp. finely chopped fresh parsley
1 tbsp. Dijon mustard
2 pounds cod or other firm white fish, sliced into 6 equal pieces
Canola or other vegetable oil
Kosher salt or fleur de sel
Preheat oven to 325°. Combine breadcrumbs and parsley on a plate or shallow bowl. Brush one side of fish with a very thin layer of mustard (if your mustard is very thick, add a few drops of water to thin) and dip into parsley mixture.
Heat a oven-safe pan large enough to hold all the fish over medium-high heat. Add enough oil to coat the bottom of the pan. When oil just begins to smoke, add fish, coating side down, and cook until nicely browned, about 1 minute. Transfer pan to oven and bake until fish is just cooked through, 8 to 9 minutes. Sprinkle with salt before serving.