Charcutepalooza is a yearlong project I'm participating in to make recipes from Michael Ruhlman's Charcuterie: The Craft of Salting, Smoking, and Curing. For more information, see my introductory post.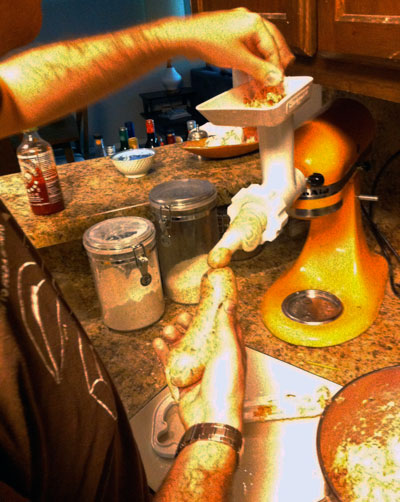 Halfway through the Year of Meat, and I've learned two things: One, most cured meats are very, very easy (if time-consuming) to make at home. Two, stuffing sausage into casings using a KitchenAid is a huge pain in the ass.
Making your own encased meats is a massively rewarding endeavor, and one I highly recommend, but if you're gonna embark on the project, you should pick up one of these guys. The KitchenAid grinder/stuffer attachment is possibly the least efficient way to get sausage into intestine.
That said, I still managed to use it to make what was my tastiest Charcutepalooza project thus far.

On my recent New York trip, I had the pleasure of sampling Asia Dog, perhaps the best bringing together of American and Asian flavors since the Chinese takeout place. The genius concept (which very recently opened a permanent location in Nolita) tops hot dogs with things like barbecue pork belly or mango relish, peanuts, and fish sauce.
So when it came time to make something hot-dog-esque for Charcutepalooza, I knew just who to rip off.
I'm not usually a fan of chicken sausage—why bother, when pigs exist? But Ruhlman's method adds just enough pork fat to the poultry to make it delicious. And the mild flavor of chicken lets the sausage's seasonings shine through more clearly. So I went for a balance of sweet, spicy, salty, and sour flavors, with a good splash of toasted sesame oil, which is possibly my favorite ingredient in the whole world.
The slaw is probably the most Asia Dog-robbing part of the recipe; its Sydney dog comes topped with a mango-laden cabbage mixture. My recipe is easy: cabbage, carrot, and mango (underripe is crunchier and tangier, perfect for this purpose), dressed with rice wine vinegar and more sesame oil. I also added some honey and sriracha to help balance the tartness, plus sesame seeds, which are more for looks than flavor.
But what brings the whole thing together is the mixture of hoisin sauce and mustard. Sadly, I can't take credit for that one, either. I got the idea from the Lettuce Wraps with Hoisin-Mustard Tofu in Appetite for Reduction, a vegan cookbook Nadria bought that we've been using once or twice a week for a month or so.
The sweet-and-savory flavors in hoisin match perfectly with the sour pungency of plain ol' yellow deli mustard, creating an über-condiment you have to taste to believe. I've yet to find a food that isn't tasty with hoisin mustard on it. You could use extra-spicy Chinese-style mustard, but that kinda undercuts the whole East-meets-West feel.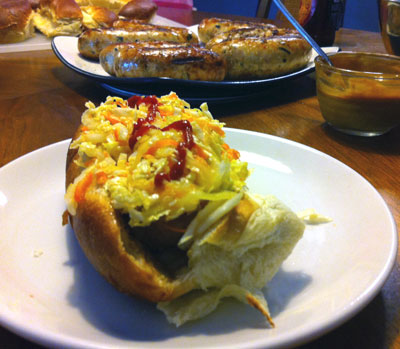 Asia Dogs with Mango Slaw and Hoisin Mustard
1/2 head Napa cabbage, shredded as thinly as possible
1 mango (slightly unripe if possible), peeled, seeded, and shredded using a box grater
2 medium carrots, peeled and shredded using a box grater
2 tbsp. sesame seeds
1/4 cup rice wine vinegar
2 tbsp. dark sesame oil
1 to 2 tsp. honey
1 tsp. sriracha
8 Asian-Flavored Chicken Sausages (see below), or hot dogs
1/4 cup yellow mustard
1/4 cup hoisin sauce
8 hot dog buns, lightly toasted
Toss together the cabbage, mango, carrots, and sesame seeds in a large bowl. Whisk together the vinegar, oil, honey, and sriracha in a small bowl and season to taste with salt and pepper. Pour the vinegar mixture over the cabbage mixture and toss to combine. Refrigerate for 1 to 2 hours.
Cook the sausages (grill, or simmer and then brown in a skillet) until done. Keep warm.
Stir together the mustard and hoisin sauce in a small bowl. Generously slather each bun with the mustard mixture and top with a sausage and some of the slaw. (You will probably have extra mustard and slaw left over.) Top with additional sriracha if desired.
Asian-Flavored Chicken Sausage
Adapted from Michael Ruhlman
3 pounds boneless, skinless chicken thighs, cubed and chilled
1 pound pork fatback, cubed and chilled
32 grams kosher salt (about 2 tbsp.)
1/3 cup packed Thai basil, roughly chopped
1 (2-inch) piece ginger, peeled and chopped
2 stalks lemongrass, chopped
1/4 cup rice wine vinegar
1/4 cup dark sesame oil
2 tbsp. sweet chilli sauce
1 tbsp. sriracha
Natural hog sausage casings
Toss together the chicken, fatback, salt, basil, ginger, and lemon grass in a large, chilled bowl. Grind through the coarse plate into a mixer bowl set in a large bowl half-filled with ice and water. Mix with the paddle attachment until uniformly combined and sticky, about 1 minute. Add the vinegar, oil, chilli sauce, and sriracha, and mix again until combined, about 1 to 2 minutes more. Cook a small amount and taste for seasoning, adding more sriracha, vinegar, or salt if needed.
Place the meat mixture in the refrigerator while you prepare your sausage-stuffer (if grinding and stuffing using the same mixer attachment, wash thoroughly in between. Stuff the mixture into the casings as desired.