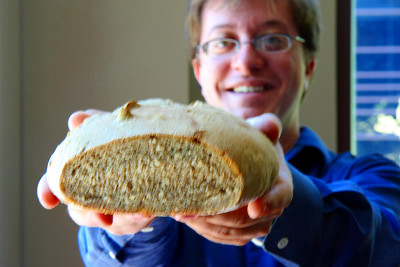 I love bread. I love eating bread, I love baking bread, I love kneading bread dough.
And I want you to, too.
So I'm working with awesome local-food-only grocery store Freshfully to put together a bread-making class on Sunday, October 21.
Look: People are afraid of baking their own bread. For some reason, they think it takes some kind of alchemy (plus a French accent) to bake a decent loaf. They are wrong. All it takes is four ingredients and a couple hours, and you can have as much fresh-from-the-oven bread as you want.
In the class, I'll go over my pretty-much-foolproof method for making all kinds of bread and explain some of the science behind how bread-making works while you mix and knead your own batch of dough. Then, while the dough rises, we'll sample a bunch of my own breads (including white-chocolate, olive-and-herb, and more), paired with some local cheeses.
At the end of the class, you'll go home with a batch of bread dough ready for baking (sorry, Freshfully doesn't have an oven) or freezing for later (yes, I'll tell you how to do that as well).
Registration is $30, but for reading through this post, I'll save you five bucks! Just use coupon code DOUGH at checkout.
See you Sunday!