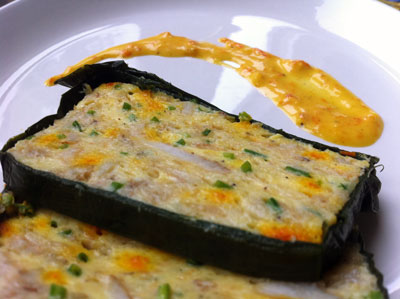 Charcutepalooza is a yearlong project I'm participating in to make recipes from Michael Ruhlman's Charcuterie: The Craft of Salting, Smoking, and Curing. For more information, see my introductory post.
Making a seafood terrine, especially this one, is an expensive proposition. Scallops, crabmeat, saffron: It's like they picked out all the priciest items at Whole Foods. But the alternative for this month's challenge was head cheese, and as much as I would have enjoyed doing that, Nadria made it very clear that no pigs' heads were going to be allowed in our apartment. (Also, I have no idea where one can acquire a pig's head in Birmingham.)
So seafood terrine it was. This is a seriously old-school dish, and everything about it reminds me of Driving Miss Daisy and ladies who lunch. But it tastes good, and it looks lovely. A platter of slices paired with a nice sauce (more on that later) make an impressive start to a fancy dinner party.
And the great thing about a seafood terrine is that it takes maybe two hours. This was the quickest Charcutepalooza project so far: No brining, no curing, no salting.
What struck me about this recipe is its texture. I made a half-recipe, which means that there's all of one egg white to a full pound of seafood, but it comes out dense and rich and very omelet-like. The leek wrapper was also very cool: You boil the green ends of some leeks until they're limp and use the verdant, ever-so-slightly oniony strips as the outer layer. It makes basically anything look gorgeous. I'm thinking maybe a wrapper for goat cheese-stuffed dates or perhaps tied in a bow around deviled eggs.
Having not ever really made terrine before, I was a bit trepidatious about modifying Ruhlman's recipe. Thus the costly ingredients. Next time, I'd make this a little more Southern: Gulf shrimp instead of scallops, crawfish tails for the crabmeat, and cayenne-infused cream in place of saffron.
To go with something this rich, though, you need a luxurious sauce. I had an egg yolk left over and a pinch of saffron left in in the jar, so I immediately went to aioli. And I had a bunch of red peppers from my CSA, so roasted red pepper-saffron aioli was the obvious choice. I haven't had the best luck making mayonnaise and mayonnaise-like substances at home: There was a terrible incident a couple years ago where my KitchenAid pulled itself off the counter, leaving a nasty gash in my kitchen floor and bending the machine's switch. Luckily, I was able to fix the machine, and I made a valuable discovery. Mayonnaise is easier to make by hand than with an electric mixer. Really. Just pull out a whisk.
Roasted Red Pepper-Saffron Aioli
1 1/2 tsp. hot water
1/2 tsp. rice wine vinegar
1 tiny pinch saffron
2 small red bell peppers
1 egg yolk
1 clove elephant garlic (or 2 cloves regular garlic), minced and mashed into a paste
1/2 tsp. salt
1/4 tsp. fresh ground black pepper
3/4 cup vegetable oil
1/4 cup extra-virgin olive oil
Combine the water, vinegar, and saffron in a medium bowl and let stand for 10 minutes.
Meanwhile, preheat the broiler. Broil the peppers, turning occasionally, until skin is blackened on all sides. Place in a small bowl, cover with plastic wrap, and let stand for 10 minutes.
Add the egg yolk, garlic, salt, and pepper to the saffron mixture and whisk until well combined. While whisking constantly, slowly drizzle in the oil until it is all incorporated and the mixture is thick and creamy.
Under running water, peel and seed the peppers. Puree in a food processor until smooth. Stir into the aioli mixture. Taste, and add more salt and pepper if needed.