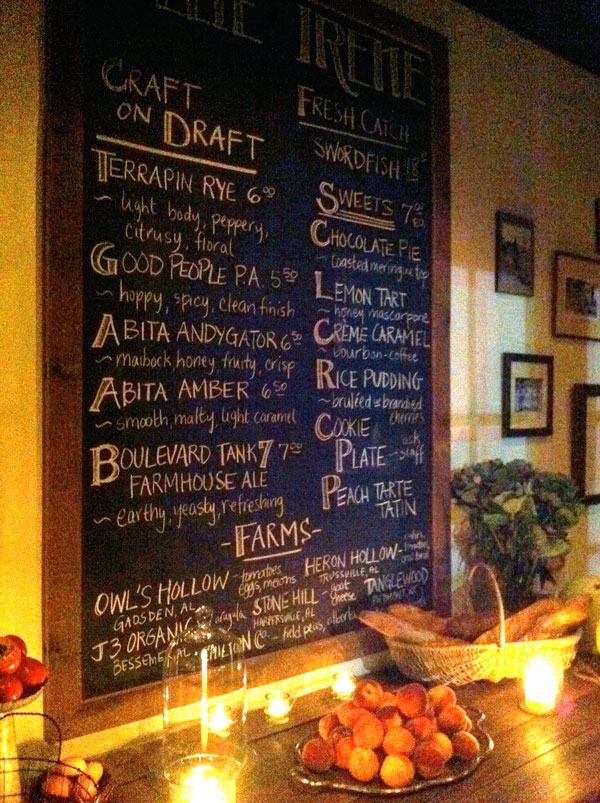 So remember Pianeta 3, the pizza joint in Mountain Brook Village that opened, oh, seven months ago? Yeah, it's long gone. Such is the way of promising Birmingham restaurants.
But what replaced it just a couple weeks ago is the new spot I'm perhaps most excited about, maybe since I moved here.
Ollie Irene is an honest-to-God gastropub, a kind of restaurant we didn't have any of before but which is wildly popular in bigger cities. Basically, you take a casual, comfy British pub-style atmosphere and serve high-end cocktails and food in it. Simple enough idea, and there are lots of famous ones around the country.
And now Birmingham is home to an excellent one. Which also happens to be run by a pair of extremely nice people who have their hearts in exactly the right place. And you should check it out.
I tried the place literally on opening night (it was two weeks ago already; sorry for the delay in posting—I'm a bad blogger), and it seemed to have its shit fully together already, quite a feat in and of itself.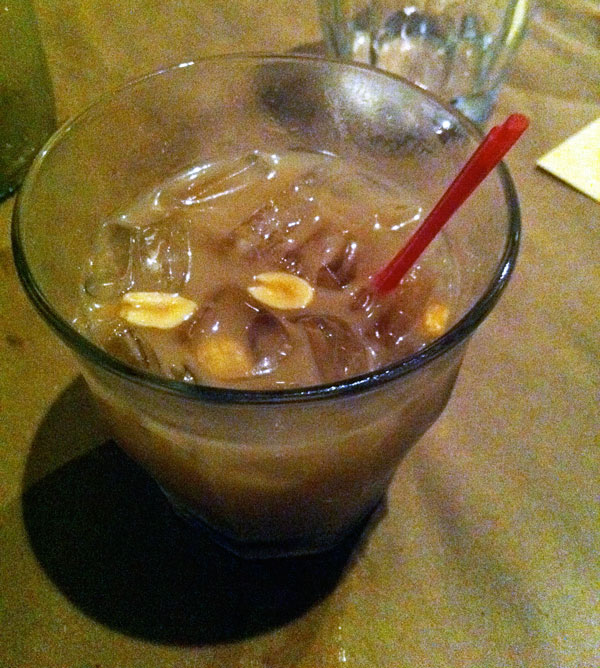 We started with cocktails, of course. Now, I was a bit worried on this front: When I interviewed the owners for my Magic City Post story a week and a half before opening, they hadn't yet hired a bartender and the drinks program was still kind of up in the air.
Well, in the intervening 10 days, they managed to find a mixological prodigy. According to the restaurant's blog, the guy's name is Zak, and that's all I know about him, but the drink at left that he created is incredible.
It's called the Tallulah. Y'know that weird Southern tradition of dumping salted peanuts into Coca-Cola? It's that in drink form. Zak makes a peanut orgeat from scratch (usually made from almonds and used in tiki drinks, orgeat is a nut-flavored syrup) and adds it to Jack Daniel's and Coke. Sounds simple enough, but words can't really describe how delicious this cocktail is. Peanut is no subtle hint; it's the main flavor of the cocktail, accented by caramel sweetness from both the cola and the whiskey. Ah-maz-ing.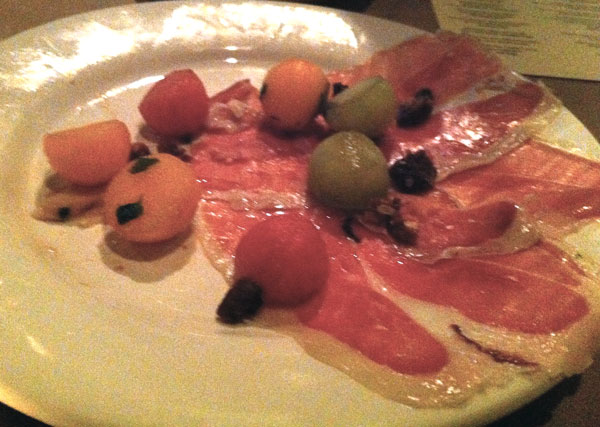 Luckily, I went to Ollie Irene with a big group, so I got to try a bunch of items. We started with the ham plate, the boudin balls, and the chicken liver paté.
A plate of sliced ham is a pretty basic thing, so what really matters is the quality of the pork. This doesn't disappoint, with an unctuous Surryano ham from Virginia (it's a pun, get it?). The local melon helps, too.
The boudin and paté, both house-made, are definitely worth a try if you like either dish. Both come with pickled veggies—bread-and-butter cucumber for the former, cherries for the latter—plus savory mustard.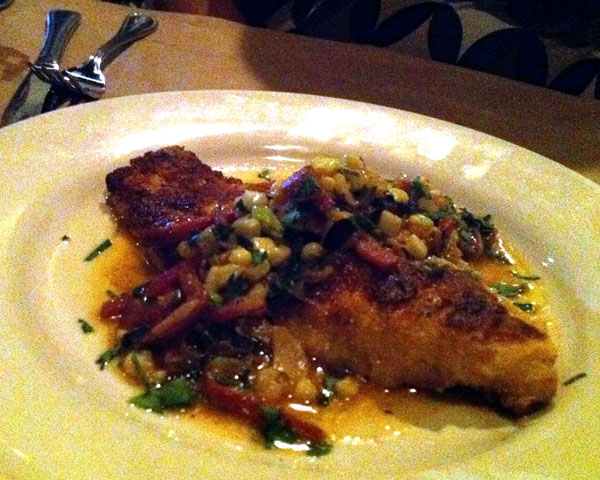 Then came entrees. For me, it was a tie for first between the catfish and the pork shoulder. The fish gets a dusting of cornmeal and a quick saute, so it's not exactly deep-fried crunchy, but it's still nice and crisp. It's perfectly, perfectly seasoned and comes topped with corn, tasso ham, and lemon butter. (As I understand it, the accompaniments for the main dishes will change with the seasons, but the proteins themselves will stay the same.)
The pork is a huge chunk of shoulder meat, slow-cooked until fork-tender but not quite falling apart. It came with field peas and local peaches: The tart fruit was an ideal counterpoint to the savory meat.
A burger, topped with blue cheese, caramelized onions, and more of those bread-and-butter pickles, was very good (if perhaps a bit overpriced at $12), but the real highlight was the "pub fries" on the side. They're more like potato wedges than fries, but they're cooked exactly perfectly—crunchy on the outside and creamy within. They even stayed crisp after they got cold, perhaps the highest French-fry achievement possible.
The only miss I tried was the lemon-ricotta gnocchi. The pasta itself was fine—good texture, cooked well—but there was way too much lemon in it, making it unpleasantly sour. And it came with broccoli on top, which didn't really pair well or make a lot of sense. But that's small potatoes compared to everything else.
We were offered dessert, but everyone was too full to even attempt it. That's on the agenda for next time, which should be very soon.
All in all, I can't recommend Ollie Irene highly enough. Go there now, and order yourself a Tallulah!