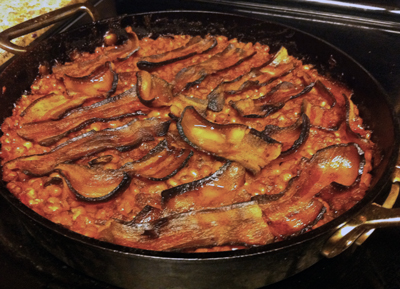 If you do much reading of this blog, you know I love to make things from scratch. Frozen, canned, pre-mixed stuff all makes me, well, uneasy.
So it should come as no surprise that my Labor Day barbecue yesterday featured homemade hot dogs and sauerkraut.
But one thing I've never really been able to adequately recreate on a DIY basis is barbecue sauce. It seems like it would be a pretty simple thing—vinegar, spices, and (depending on the style) maybe some tomato paste, sugar, or mustard.
The whole idea is to adjust to your own taste—everybody's sauce is ever-so-slightly different—so it would seem like a no-brainer, right? But every time I try a sauce on my own, or even from a recipe, it comes out not quite right. I can't put a finger on it; it's just missing depth, or balance, or who knows what.
So when it comes to barbecue sauce, I'm a big cheater. I just stick with the bottled stuff. (The good bottled stuff, but still.)
Anyway, for my Labor Day party, I found The Pioneer Woman's baked-bean recipe irresistible. It's got bacon, brown sugar, and barbecue sauce—how could you go wrong?
Of course, I did make a few DIY changes of my own.
First, for some reason, Pioneer Woman uses cans of pork-and-beans; I went instead with, well, pork (extra bacon) and beans (plain ol' navy beans, but you could use pinto, white, really whatever you like).
Second, she sweetens with brown sugar alone; I used half brown sugar and half sorghum syrup, for a little extra mineral complexity (and Southernness) along with the sweetness.
Third, she combines barbecue sauce, vinegar, and mustard; I happened to have some Butts Sauce, a friend of mine's creation, and used it instead of the latter two ingredients. (It's a South Carolina-style barbecue sauce, which means it's made of mustard and vinegar anyway, plus extra delicious spices.)
And finally, the change that seemed most obvious to me. Pioneer Woman cooks her bacon and veggies in a big cast-iron skillet and then pours everything into a baking dish to bake. Is she insane? Why go to all the trouble of dirtying such a gorgeous pan and then not serve the beans in it? Serving anything in a cast-iron skillet leads to guaranteed oohs and ahhs.
Don't have a cast-iron skillet? Buy one
.
But until you do, you can bake this in a 9×13 baking dish.
Cast-Iron-Skillet Baked Beans
Serves 10 to 12
11 strips bacon, divided
1 onion, diced
1 bell pepper, diced
1 tsp. salt
5 (15.5-oz.) cans navy or pinto beans, rinsed and drained
1 cup sweet tomato-based barbecue sauce (Western North Carolina-style)
1/2 cup mustard-based barbecue sauce (South Carolina-style), or 1/4 cup cider vinegar plus 1/4 cup Dijon mustard
1/4 cup brown sugar
1/4 cup sorghum syrup
Preheat the oven to 325°.
Cut 8 of the bacon strips in half and cook in a large cast-iron skillet over medium-low heat until most of the fat has rendered out but the bacon has not started to brown, about 6 to 8 minutes. Remove from the pan and drain on a layer of paper towels.
Dice the remaining 3 bacon strips, increase the heat to medium, and cook, stirring often, until browned and crisp, about 5 minutes. Add the onion, bell pepper, and salt, and season to taste with freshly ground black pepper. Cook, stirring occasionally, until the vegetables are softened and beginning to brown, 7 to 10 minutes. Add the remaining ingredients, stir to combine, and cook until the liquid comes to a simmer.
Arrange the partially cooked bacon half-strips on top of the beans and bake for 90 minutes or until the bacon on top is crisp and the sauce is thick and sticky.