A couple weeks ago, I had the privilege of attending a Four Coursemen dinner here in Birmingham (at Little Savannah). The Coursemen are a group that started putting on underground dinners in Athens, Ga., a little more than five years ago. They've since gained national fame, including a Cooking Channel show, and their dinners routinely sell out in seconds.
These guys (there are six of them, and not all are trained chefs) are right on trend for the food world. They're all about local ingredients and regional dishes. They spent two days before the dinner visiting farms and other food purveyors in the Birmingham area, tweeting enthusiastically about everything they found. And then they turned it into an impressive five-course meal.
The food was great, but more importantly, it was inspiring. More on that in a second, but first, the requisite rundown of the eats: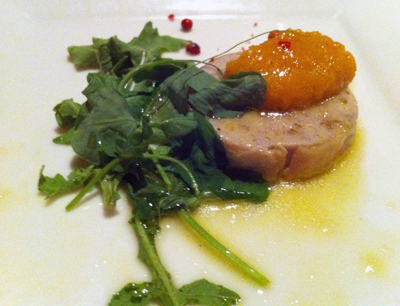 We started with a galantine paired with persimmon jam and an arugula salad with pink peppercorns and a honey vinaigrette. Ironically, the same dish was this month's Charcutepalooza project, and I'm not ashamed to say I blantantly ripped off this presentation for my own galantine. (Said post will be up on Saturday; keep an eye out.)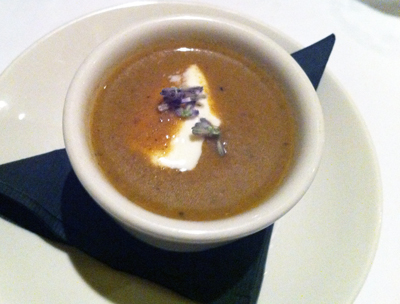 Next came my favorite dish, a shiitake mushroom soup topped with whipped goat cheese and sage flowers. It was a pure taste of fall, really intensely mushroomy and nice and hearty. They used just a bit of ground nuts (either walnuts or pecans, I can't remember) to thicken the soup, a very tasty idea.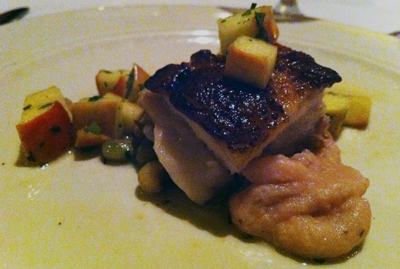 After that were the main courses: Gulf tripletail (that's a fish, non-Southerners—and a sustainable one at that) pan-roasted with broccoli, rapini, and black rice, and braised pork belly (left) with pink-eyed purple-hull peas, mashed turnips, and apple relish. I've been seeing lots of pork belly on local menus lately, and that's a good thing. Properly cooked until totally tender but still holding together (which this was), it's rich and unctuous and perfect, pretty much regardless of your sauce or sides.
Dessert was a poached pear with goat-cheese custard. Honestly, this was the weakest course, as the pear was a bit undercooked and not soft enough. But the custard was clever, and tasty—tangy and sweet and creamy all at the same time.
Sadly, the Coursemen went back to Georgia. But they were hugely impressed with Birmingham, and I hope they'll be back soon.
Which brings me to the real point of this post. If an underground supper club can succeed in Athens, why can't we have one here?
The beauty of the thing is that it cuts all the restaurant problems out of the equation. There's no health department to worry about: To make everything legal, diners don't pay for the dinner—they make a "suggested donation" for attending the event. And you don't have to hire any staff: The cooks serve everything themselves.
And there's certainly a community of die-hard foodies in Birmingham who'd be willing to spring for something like this. (Foodie Book Club, I'm looking at you…)
I may be a very experienced home cook, but I don't think I could work a commercial kitchen, churning out a hundred or more covers during service. However, I could handle 15 or 20 folks for a dinner party (with help).
So consider this the birth of Birmingham's newest underground supper club. I've got a friend on board to help plan, and things are in the works.
Now I want some opinions, locals. What kind of food would you want to see at an underground supper club? Where should it meet? Can we pull this off?
Watch this space for more.