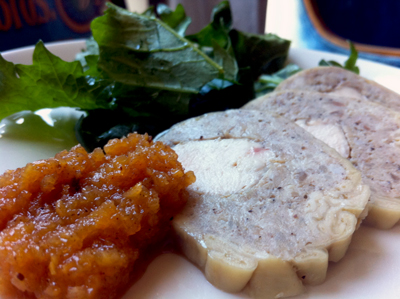 Charcutepalooza is a yearlong project I'm participating in to make recipes from Michael Ruhlman's Charcuterie: The Craft of Salting, Smoking, and Curing. For more information, see my introductory post.
So it's finally arrived. The Charcutepalooza challenge I knew was coming and dreaded above all. Galantine. It's simple enough: a rich chicken pâté, flavored with warm fall spices like cinnamon and clove. But here's the tricky part: The whole thing is rolled up in the skin of the chicken. Which means you have to remove a whole chicken's skin in one piece.
I'm not sure why this terrified me so much. I mean, I've slaughtered and butchered a whole pig; this should not be a big deal. Maybe it's the precision required. One poke of the knife and the thing is ruined. After all, I'm The Messy Epicure, great supporter of imperfection in the kitchen!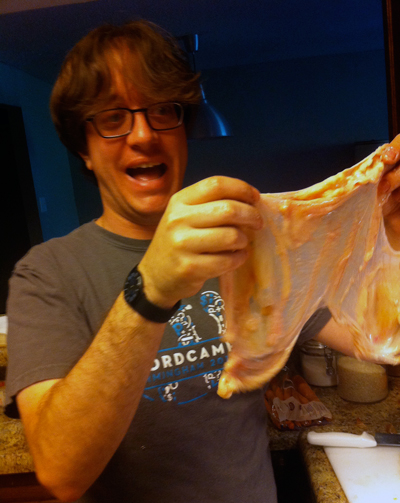 But I managed. It's a challenging task, but chicken skin is remarkably tough and much more difficult to pierce with a boning knife than you'd think. In reality, the biggest problem I had was that there was too much filling. I ended up have enough for a second galantine, which I wrapped in plastic wrap and poached in water instead of stock. (Honestly, I couldn't taste very much difference between the two.)
So a few days before I made my galantine, I had the pleasure of attending a Four Coursemen dinner here in Birmingham. And what was the first course but delicious, made-fresh-that-afternoon galantine? To serve mine, I, well, shamelessly ripped off the Coursemen. Which is to say I made a persimmon jam. The sweet fruit is a perfect autumnal accompaniment to the galantine. And the pâté spice mixture you need for Ruhlman's galantine is a perfect seasoning for the jam. (In my recipe below, I just used a pinch of each ingredient in the mixture.)
Now the beauty of a DIY food project like Charcutepalooza is that it lets you experiment with something chefs don't normally mess around with. At a restaurant, you might pay twelve bucks for a couple slices artfully arranged on a tiny platter, but when you make one yourself, you've got half a damn galantine in the fridge and no idea what to do with it.
And that's how I discovered pan-fried galantine. Snooty French chefs with medals around their necks will tell you you're supposed to serve thin slices, ice-cold. But Nadria isn't really a fan of chilled meat, and there was no way I would be able to eat three pounds of cold galantine all by myself before it went bad.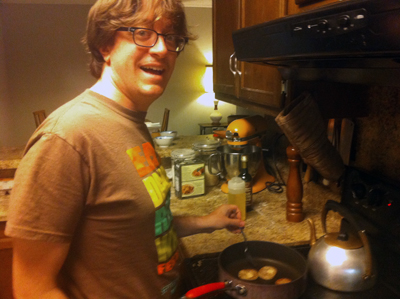 So on her suggestion (and feeling sinful the whole time), I pan-fried a few slices. And they turned out good! I was afraid the delicate chicken mixture would fall apart, but it didn't. And the slices browned beautifully on both sides, becoming just slightly crisp. I even chopped some up and cooked it in a breakfast hash with some leftover butternut squash. (Actually, it was extra filling from Serious Eats' squash, sage, and Parmesan pasties.)
And that led me to a ridiculous idea, which I sadly didn't have the chance to try: Deep-fried galatine. Imagine it—tasty sausage, wrapped in what amounts to crunchy gribenes. (If you're not familiar, gribenes is Yiddish for crisp-fried chicken skin, basically the Jewish version of cracklins.)
I'll leave you to that Charcutepalooza fantasy while you check out my persimmon jam recipe.
Persimmon Jam
3 medium fuyu persimmons, peeled and chopped finely (or pulp from 3 medium hachiya persimmons, seeds removed)
1/4 cup sugar
2 tbsp. maple syrup
1/2 cup water
Pinch salt
Pinch ground cinnamon
Pinch ground black pepper
Pinch grated nutmeg
Pinch ground ginger
Combine all the ingredients in a small saucepan and bring to a boil over medium heat. Reduce the heat to low and simmer for 20 minutes, stirring occasionally and adding more water if the mixture becomes too thick. Puree in a food processor to a uniform consistency.