(Read about The Thomas Keller Challenge project here. And don't miss my Thomas Keller vs. Frank Stitt Challenge guest post on Wade on Birmingham.)
This recipe is the absolute best hash browns you'll ever have. Which is a good thing, because it's also the most fussy and intricate hash browns you'll ever make.
Never one to make comfort food simple, Chef Keller has you cook down onions for almost an hour, render bacon for 30 minutes, fry the potatoes, and then cook everything together for a few minutes. This is decidedly not a quick-breakfast meal, but damn is it good.
Let's start with the Melted Onions, a preparation used in several dishes in Ad Hoc at Home (aff. link). You start by softening the onion in a dry pan for 20 minutes, then adding butter and seasonings before cooking another 30 to 35. The result is a sweet, creamy, and tender pile of onion that somehow holds its shape. You may want to double or triple the onion part of the recipe below, just to have them on hand to put in pretty much any dish.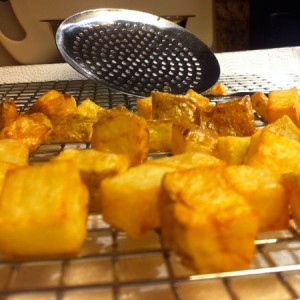 The potatoes fry until nicely cooked at a relatively low temperature, so they don't get terribly crisp. You'll crisp them briefly at the very end of the recipe, but you don't want 'em crunchy—it's kind of the perfect texture to eat with a fork.
And the bacon, well, what isn't better with bacon? Keller's recipe makes it sound like the bacon's not really supposed to get very crisp, but it calls for 30 minutes of cooking. Even at low heat, you're gonna end up with crispy bacon. And it works in the dish.
You can cook this dish in about an hour if you time it right: Cook the onion for 20 minutes, then add the butter and seasonings and start the bacon. While the bacon and onion finish cooking, fry and drain the potatoes. Finally, throw everything together and you're done in roughly 55 minutes. (Or you can cook the onion up to 3 days ahead.)
This is supposed to be a side dish, but as a main course paired with a simple green salad, it was a big hit.
This may be sacrilege atop Chef Keller's pristine potato hash, but as a good Southerner, I found that a couple dashes of Tabasco Sauce made this dish even better.
Now, if I could just find someone to make this for me Saturday mornings…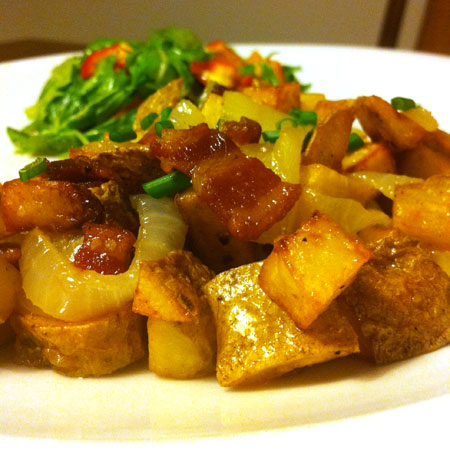 Continue reading The Thomas Keller Challenge: Potato Hash with Bacon and Melted Onions →