(Read about The Thomas Keller Challenge project here.)
Finally, a recipe from Chef Keller that anyone with a reasonably equipped pantry can make without a special grocery expedition! This is a really simple dish, but it looks elegant and tastes wonderful. You rub some chicken breasts with curry and paprika, pound 'em flat, cook 'em, and make a really simple white-wine pan sauce.
The only really odd part of this recipe is that you're supposed to season the chicken with the paprika and curry powder, and then let it sit for two hours. I've never heard of "marinating" meat in just dry spices (even spice rubs usually have some liquid component), and I'm not convinced it made any difference. It's not like the inside of the chicken tasted like the spices, and the outside would with the two-hour "marinade" or not. I'm leaving the step in my version of the recipe because I did it, but if you want to skip it I think you'd still be okay.
Otherwise, my changes to the recipe were for convenience and personal preference. I swapped in pimentón picante (spicy Spanish smoked paprika) for regular paprika because I love the stuff, and my parents brought me a really nice jar of it after they went to Spain this spring. I used fresh basil instead of the fresh tarragon Chef Keller calls for because I have a basil plant, and who in God's name has fresh tarragon just lying around?
A very important thing to note: Do not use a non-stick pan to cook the chicken! You want browned bits sticking to the bottom; it makes a better pan sauce. I have a full set of nonstick cookware, but I have two clad-copper pans I keep around just for this purpose (and because they're oven-safe).
We served the chicken with Okra Pancakes from Edna Lewis and Scott Peacock's The Gift of Southern Cooking, one of my very favorite cookbooks (and also the source of the world's best chocolate cake recipe). The flavors didn't match terribly well, but both are very tasty dishes, and we had a bunch of okra we needed to use up anyway.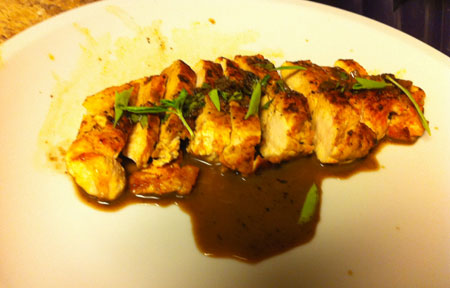 Sautéed Chicken Breasts with Basil (adapted from Ad Hoc at Home)
Serves 2
1/2 tsp. pimentón picante (spicy smoked paprika)
1/2 tsp. curry powder
2 boneless, skinless chicken breast halves
Canola oil
1 Tbsp. butter, divided
1/2 small shallot, minced
2 Tbsp. white wine
1/3 cup chicken stock
1/2 Tbsp. fresh basil, roughly chopped
Stir together pimentón and curry powder. Sprinkle onto both sides of chicken breasts. Wrap chicken in plastic wrap and refrigerate for two hours.
Heat a pan over medium-high heat. Pound chicken between sheets of plastic wrap to 1/4 to 1/2-inch thickness. Season on both sides with salt and pepper. Add oil to pan and sauté chicken until cooked through and browned, about 2 minutes per side. Remove chicken to a plate.
Melt 1 tsp. butter (1/3 of your total tablespoon), add shallot, and cook 30 seconds. Add wine and cook another 30 seconds. Add chicken stock and cook until reduced and slightly thickened, about 2 minutes. Stir in basil and remaining butter, and any juices on chicken plate, and swirl until butter melts. Season to taste with salt and pepper.
Slice chicken on the bias and arrange on plates. Pour sauce over top.