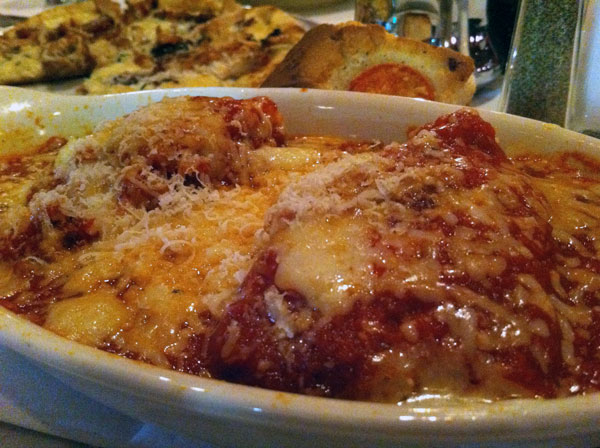 As a Chicago native and avowed pizza snob, I've been surprised to find that the pizza in Birmingham is actually quite good. From the excellent (and authentic) Chicago-style at Tortugas to the creative topping combinations at Rocky's to the artisanal pies at Trattoria Centrale, we have a wide assortment of independent local pizzerias.
And now there's another one. Pianeta 3 opened just before Christmas in the Mountain Brook Village space formerly occupied by Browdy's. Its pedigree is impressive: George Sarris, of The Fish Market and Dodiyos, and Franklin Biggs, formerly of Homewood Gourmet, are co-owners. Head chef Derek Blalock comes from Homewood's New York Pizza, a place that—though I'm loathe to praise any pizza associated with New York—is pretty darn good too.
I tried Pianeta 3 on its second day in business (sorry it's taken so long to get this post up—busy holidays), and even then things were running smoothly.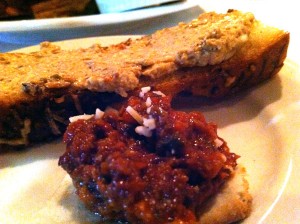 We started with bruschetta, which here is available with any of three different toppings. I was drawn to the olive and roasted red pepper spread, but our waiter recommended the one with blue cheese, cream cheese and onion. He let us split the difference and brought a small portion of each.
The waiter was right: The cheese bruschetta is amazing. Made with pecans and balsamic vinaigrette, it's really sweet—almost like cheesecake—with a strong savory note.
The bread (house-baked, of course) was nice and crusty, though a larger portion would have been nice; there's lots of delicious spread to sop up.
We had to try a pizza, but the pasta dishes beckoned as well. The lasagna Tramontina (pictured top, and named for another co-owner) is cheesy and meaty, exactly as you'd expect lasagna to be. I wouldn't call it transcendent (it's certainly no 100-layer lasagna from Del Posto), but it is very, very good.
The pizza options on the menu are split into "old world" and "new world" sections of traditional and adventurous toppings (though the "old-world" Zio, with shrimp and asparagus, is anything but traditional).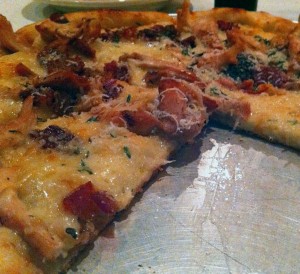 We settled on the The Decatur, an Alabama barbecue-inspired pie with grilled chicken, bacon, red onion, and white barbecue sauce. The sauce is more alfredo than true Alabama white sauce (it's too light on the black pepper), but that's okay: Alfredo matches chicken and bacon extremely well.
The crust is light and chewy, just the right thickness that you can pick up a slice without getting your hands greasy but not so thick that it tastes more like bread than pizza.
And then there's dessert. I saw "cannoli" on the menu and pounced. I love cannoli, in particular the near-perfect example of the genre made at Angelo Brocato in New Orleans. But when it comes to cannoli, I am apparently a strict traditionalist, verging on the reactionary, and I failed to notice that this version is called "cannoli our way."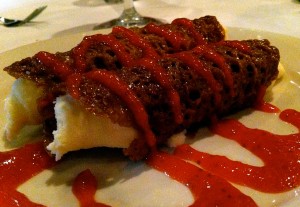 Pianeta 3's "cannoli" is a thin pecan cookie, wrapped around the traditional sweet mascarpone filling and topped with raspberry sauce. It tastes pretty good, but I'm sorry, this is no cannoli. Where's the deep-fried pastry shell and pistachios? I might have liked it better with a different name, but this dish could use some work. The cookie has a stick-to-your-teeth texture that's not so great and the filling's a little bland.
Pianeta 3 doesn't have a liquor license yet, but the Western two doors over has one of the best selections of beer and wine in the city. I don't know how it would impact the place's bottom line, but I'd be happy with Pianeta 3 remaining BYOB, especially if it can work something out with the Western's wine department to carry some recommended bottles.
The service, even at the early date I tried the place, was top-notch: Our waiter seemed to know all the dishes on the menu, food came out at the right pace (and hot), and there was a nice relaxed vibe coming from the kitchen and bar areas.
One quibble: Pianeta 3 is loud. I could hear every table's conversation but my own. Some fabrics hung on the relatively bare walls might help dampen some of the noise.
All in all, Pianeta 3 is a great addition to the Birmingham pizza scene. Like at Sarris' other restaurants, the food is impeccable and the atmosphere is casual, and I'll certainly be back.