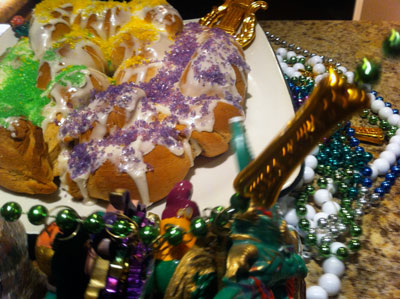 You have one day left to make this Mardi Gras necessity. Get kneading!
Since leaving New Orleans five and a half years ago (I had graduated college and was starting grad school. It turned out to be a week before Katrina.), I've made a king cake every Mardi Gras. The city is where I fell in love with the South, and where my love of cooking started to take off, so it's in large part responsible for this blog.
And I've been away too long; I almost didn't make a king cake this year. I intended to this weekend, but laziness intervened. Then I got a wild hair this afternoon to make one. And there it is.
In previous years, I'd made CHOW's recipe, which, though their photo looks terrible, is quite delicious. This year, I went in a different direction and started with an Epicurious recipe from legendary NOLA chef John Besh. His recipe isn't filled with cinnamon-sugar or chopped nuts like many king cakes—that seems like gilding the lily, what with all that sugary glaze on top.
Problem is, most king cake recipes make enough to feed a big ol' party. I just needed cake for two for a couple days' worth of dessert and breakfast, so I cut Besh's recipe in half and made a few adjustments.
It seems counterintuitive, but king cake is supposed to be really bready. The glaze that's going on top is sweet enough; the cake itself needs to have richness and texture but go easy on the sugar. Make sure you knead the dough for a good long time to achieve the right level of gluten formation and proper texture.
Reasonably Sized King Cake
Adapted from Epicurious
1/2 cup warm milk (110° is ideal—microwave it for 30 seconds or so)
1/4 cup sugar
1 tbsp. (1 packet) instant dry yeast
6 tbsp. butter, melted
3 egg yolks
1/2 tsp. vanilla extract
1/2 tsp. lemon zest
10 oz. (a little over 2 cups) all-purpose flour
2 tsp. cinnamon
1/4 tsp. freshly grated nutmeg
1/4 tsp. salt
1 dried bean (It represents the baby Jesus. Whoever finds the bean in the finished cake has to host the next Mardi Gras party.)
1 cup powdered sugar
2 tbsp. sweetened condensed milk
Juice of 1/2 lemon
Purple, green and yellow colored sugars
In the bowl of an electric mixer, stir together the milk, sugar, and yeast. Let stand until the mixture starts to get foamy, 3 to 5 minutes. Stir in the butter, egg yolks, vanilla, and lemon zest. Fit the mixer with the dough hook attachment and add the flour, cinnamon, nutmeg, and salt. Mix on low speed until the dough begins to come together, then increase the speed to medium and knead until smooth and elastic, about 10 minutes. Form the dough into a ball, place in the mixer bowl, and cover with plastic wrap. Let rise until doubled in size, about 1 to 1 1/2 hours.
Punch down the dough and cut into 3 equal pieces. Roll each piece into a log about 2 feet long. Braid the dough logs together and form the braid into a ring, sealing the ends together. Place the ring on a baking sheet lined with parchment paper or a silicone baking mat. Press the bean into the cake. Let rise until doubled, about 30 minutes. While cake rises, preheat the oven to 375°.
Bake until golden brown, about 25 minutes. Place cake on a cooling rack for 30 minutes. While the cake cools, make the icing: In a small bowl, stir together the powdered sugar, condensed milk, and lemon juice. (Icing should have the consistency of Elmer's Glue. If too thick, add a bit of the juice from the other half of the lemon.)
Once the cake is pretty much cool, drizzle the icing over the top. Decorate with the colored sugars. (Do this immediately; the icing will harden within a few minutes.)