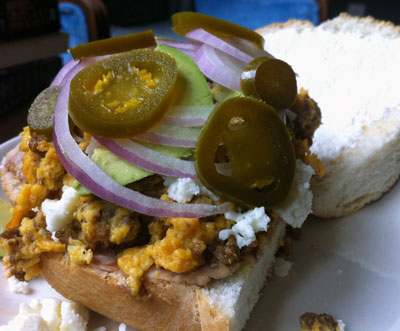 Charcutepalooza is a yearlong project I'm participating in to make recipes from Michael Ruhlman's Charcuterie: The Craft of Salting, Smoking, and Curing. For more information, see my introductory post.
If you're a serious enough cook to own a Kitchenaid, you should definitely invest in a meat grinder attachment for it. Besides enabling you to make the best burger ever, you can also make this month's Charcutepalooza project: sausage. After all, sausage is just ground meat with spices mixed in.
Ruhlman's recipe is pretty straightforward, but there's one tiny note at the end that kind of blew my mind. To make your own ancho chile powder, just toast some chiles in a 300°-oven for 10 or 15 minutes until completely crisp. Break open, pour out and discard the seeds, and run the pepper through a spice grinder. I'd never thought of making chile powder before, but this method's easy and works with any kind of dried chile. You can even make your own custom blends—I may revisit this soon on this here blog.
But back to sausage. Spicy, garlicky Mexican-style chorizo is one of my favorites, and its flavor is extremely versatile: It's not so distinctive that you can't use it in place of just about any other kind of sausage. But its best partner is eggs.
Chorizo con huevos is great by itself for breakfast, but stuffed into a sandwich with lots of toppings, it makes my most favorite Mexican food. It feels sort of sacrilegious that it doesn't involve tortillas of any kind, but the torta is a magnificent sandwich. The secret is the bolillo, an oval roll with crisp crust and a thick, chewy interior. (Full discolsure: I couldn't find bolillos at the Clairmont Piggly Wiggly, despite its aisle-and-a-half of Mexican products, so I used French bread, a pretty decent substitute.)
My love for the torta de chorizo con huevos dates back to my first introduction to real Mexican food, at the terribly named but very authentic Chicago chain El Famous Burrito. El Famous also serves awesome tamales and football-sized burritos (and is the only restaurant on Earth, as far as I know, with RC Cola on tap), but the tortas are the best. Here's my best shot at a recreation.
Tortas de Chorizo con Huevos
Serves 2
1 (15.5-oz.) can pinto beans, rinsed and drained
1 red onion
1 tbsp. vegetable oil
Juice of 1 lime
4 oz. Mexican-style chorizo, removed from casings
3 eggs, beaten
2 bolillo rolls, split and lightly toasted
1/2 avocado, peeled and sliced
Queso fresco, crumbled
Shredded lettuce (optional)
Jalapeño slices (pickled from a jar or fresh) (optional)
2 tbsp. crema Mexicana or sour cream thinned with a little water
In a small bowl, mash the beans with a potato masher or fork until mostly smooth. Cut the onion in half. Thinly slice one half and set aside. Chop the other half finely and cook with the oil in a small saucepan over medium-high heat until translucent, 3 to 5 minutes. Add the beans, lime juice, and 2 to 3 tablespoons water. Cook, stirring, until heated through. Remove from the heat and set aside. (You can also use leftover refried beans and skip this step entirely.)
Heat a medium saute pan over medium heat, add the chorizo, and cook, breaking up with a spoon, until cooked through. Add the eggs and cook, stirring and scraping the bottom of the pan (like you're making scrambled eggs), until cooked to your liking. Remove from the heat.
Spread the bottom half of each bolillo with 2 to 3 tablespoons of the bean mixture (reserve the remainder for another use). Divide the egg mixture between the bolillos and top with the reserved sliced onion, avocado, queso fresco, lettuce, and jalapeño slices. Spread 1 tablespoon crema on the top half of each bolillo and place on top of the torta.
—
But with a three-pound batch of chorizo on hand, I've been using the stuff as much as humanly possible in the last few days. It turns out it's also an excellent partner for greens. I threw together this slightly spicy, vaguely Mexican dish to use up some CSA mustard greens.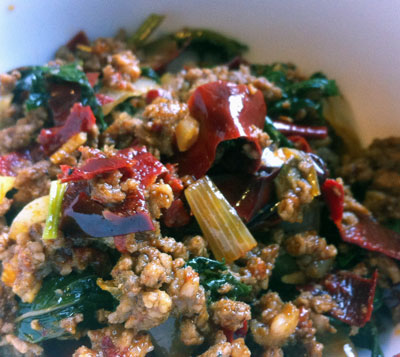 Chorizo and Greens
2 to 3 dried chiles (pasilla, guajillo, or ancho work well)
4 oz. chorizo
1 medium onion, chopped
1 bunch greens, stems removed and sliced thinly
Place the chiles in a bowl and pour over boiling water to cover. Let stand about 15 minutes, or until soft. Remove the stems and seeds, and chop. Set aside.
Heat a saute pan over medium heat and add the chorizo. Cook, breaking up with a spoon, for 2 to 3 minutes. Add the onion and continue cooking, stirring occasionally, until the chorizo is fully cooked and the onion is translucent. Add the reserved chile and cook for 1 to 2 minutes. Add the greens and cook until fully wilted.