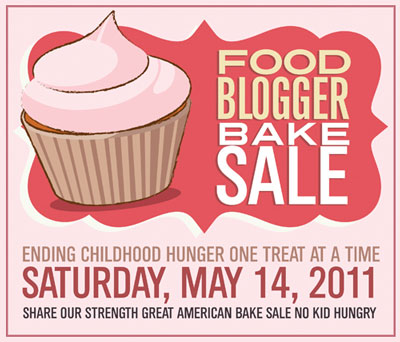 I'm proud to be hosting, with Alison Lewis of Ingredients, Inc., the Alabama edition of the National Food Blogger Bake Sale.
On Saturday, May 14, bloggers around the country will be hawking tasty treats to raise money for Share our Strength, a charity working to end childhood hunger in the US. If you're in Birmingham, I hope you'll come out and take advantage.
Our bake sale runs from 10 to 3 at the corner of 18th Street and 29th Avenue in downtown Homewood, across the street from Urban Cookhouse [map]. Besides goodies from some of Birmingham's best food bloggers, we'll have some special treats from Urban Standard, Dreamcakes, and more.
So please make plans to fight hunger by buying some cookies and cupcakes from me in Homewood on Saturday. And tell your friends!
But I also need some help: What would you like to have me bake for the sale? I'll probably make a few loaves of bread, but what else? Cookies? Brownies? Make me a suggestion in the comments!