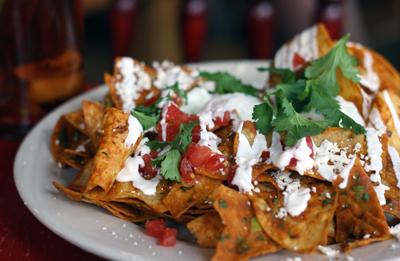 What do you do after building a highly successful chain of barbecue restaurants? If you're the people behind Jim 'n Nick's, you open a high-end Mexican restaurant.
I'll admit, I didn't have very high hopes for Little Donkey when I first heard about it, but one taste cleared away all my doubts. I was invited to the place on opening night last week for a media "preview," and just about everything was fantastic.
The high point has to be the appetizers, chiefly the chilaquiles pictured above. Tortillas are coated with salsa and then fried, creating a unique soft-but-crunchy texture. A huge plate of this concoction comes topped with sour cream, queso fresco, and—here's the best part—a pair of soft-poached eggs. Look, if you don't like runny egg yolk on just about anything, there's something wrong with you. And this might just be the dish to convert you.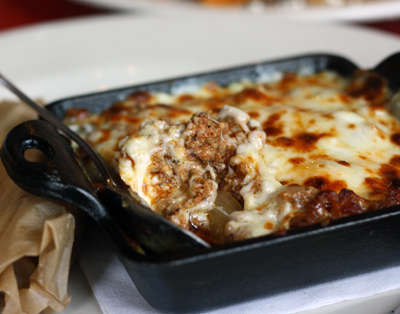 There's also an indulgent queso fundido with generous portions of chorizo and mild roasted chiles mixed in. And these come with a portion (too small a portion—four is not enough to scoop up all the cheese!) of tortillas.
Oh yeah, Little Donkey makes its own tortillas. As in they soak corn in cal, grind it in-house, and cook the things to order. Eating a fresh-cooked tortilla is one of the transcendent food experiences everyone should have, and now that's real easy for Birminghamians.
I also got to try the house guacamole. As a lover of avocados, I am pretty easy to please with a bowl of guac, but what impressed me about this one is that the kitchen clearly put extra effort into it. There's a super-smooth, creamy base with nice chunks of avocado, tomato and onion mixed in. I suspect they puree some of the ingredients and then mix in the larger pieces. It's a simple step, but it makes a difference.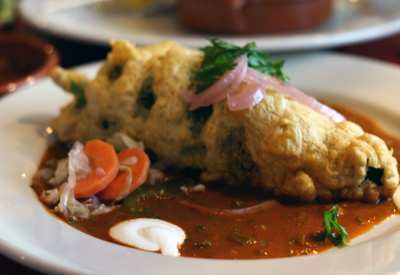 The entrees, while a bit weaker than the starters, were still pretty great. I ordered the chiles rellenos, which the menu described as two peppers stuffed with crema, cilantro, pickled onion, and cheese. I got the single largest poblano I have ever seen, stuffed with all of those things, as well as diced potato.
Not sure what happened there, but it tasted good. The pickled onions are an inspired choice, and the slightly-spicy tomato sauce it floats in is very nice. One qualm: The pepper itself was a little, err, crunchy. Usually, the peppers are roasted before frying in chiles rellenos, and I don't think that was the case here.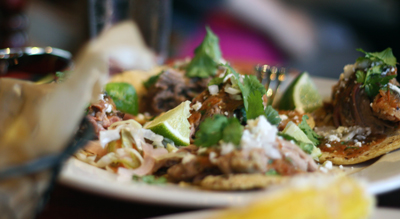 My table also got to try a drunken hog torta and an assortment of tacos. The best of that bunch was the al pastor, a mix of smoked pork (not surprising that barbecue folks got that part right) and pineapple for a welcome note of sweetness. It's a Mexican-food standard, done authentically and well. The torta was also quite nice, with pork, beans, and lots of cheese, plus a dish of meaty broth to dip it in, which reminded me a little bit of a Chicago-style Italian beef sandwich.
The place also has a little bit of tippling royalty: Alabama native LeNell Camacho Santa Ana, who ran a Brooklyn liquor store that was at the center of the early-2000s craft-cocktail revival, created the drinks menu.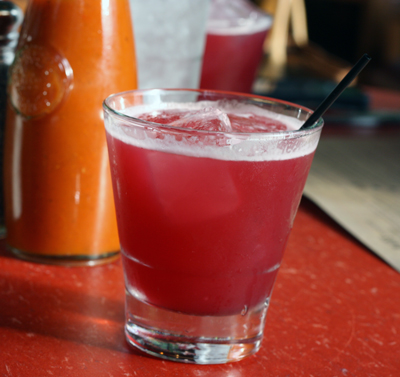 Her signature creation is the Donkey's Daddy at left, a mix of both bourbon and tequila (the place is Southern and Mexican, get it?) flavored with hibiscus syrup and lime. It's a lot stronger than it tastes, as the floral-sweet hibiscus covers up the distinctive notes of both spirits.
I was less impressed with the Paloma, a bubbly mix of grapefruit, lime, and tequila. It reminded me of just a so-so Margarita, the slight bitterness of the grapefruit adding a kind-of-unpleasant finish. I'm no stranger to bitter flavors—I love Negronis—but the other Palomas I've had were made with grapefruit soda, not grapefruit juice, and were significantly sweeter.
Regardless, I will most definitely be back, and frequently. The place has a lovely patio out front, and there are a whole mess of dishes on the menu I want to try, starting with the chile-spiked-buttermilk fried chicken. I'm also excited about the house-made aguas frescas, including my very favorite, horchata, a sweetened rice milk with cinnamon that is absolutely perfect with spicy food. And the chef told me in an interview for my Magic City Post preview that the rotating seasonal soups are his secret favorite dishes. Absolutely ordering one of those next time.