When I was in college, I used to make pork tenderloin all the time. It was cheap as hell and came pre-marinated in plastic shrinkwrap, but you had to put it in the oven to make it, so you were really cooking—and it always came out tender and delicious. It totally impressed all my ramen-microwaving friends.
But then for some reason, I stopped buying the stuff. Call it my pretensions to fine cooking, but pork tenderloin started to seem…pedestrian. The boneless, skinless chicken breast of the pig world. And I was a real cook, someone who'd make hot dogs from scratch just to say he'd done it.
Nonsense! Pork tenderloin is great, and it's still cheap as hell, and you should be making it more often. I did, however, move beyond the pre-marinated packaged version and made my own marinade. Four ingredients (one's water), and it takes just a couple hours. Plus, you get to make a delicious pan sauce with the leftover marinade.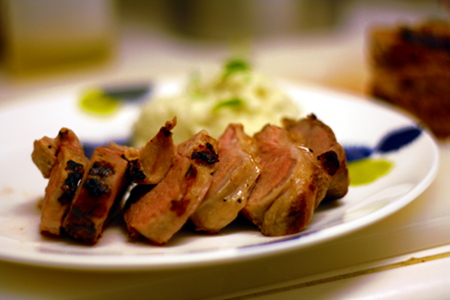 You'll notice my tenderloin is just a little bit rosy inside. This is perfectly safe, and totally desirable: Especially with a low-fat cut like the tenderloin, keeping your pork medium-well ensures that it will be juicy and not dry. Also important to avoid dryness: Rest it when it comes out of the oven for a good 10 minutes before slicing.
To go with this, garlicky mashed potatoes would be delicious, but I didn't have any potatoes; I had a head of cauliflower. Well, you can "mash" (OK, fine, puree) roasted cauliflower into a tasty facsimile of mashed potatoes, and either dish goes real well with that pan sauce. Enjoy!
Mustard-and-Garlic Pork Tenderloin
1/4 cup apple cider vinegar
1/4 cup water
2 tbsp. Dijon mustard
2 tbsp. finely chopped garlic
1 pork tenderloin (12-14 oz.)
1/4 cup chicken stock
1 tbsp. butter
In a small bowl, stir together the vinegar, water, mustard and garlic. Pour into a gallon zip-top bag and add the pork. Marinate in the refrigerator for 2 to 4 hours.
Preheat the oven to 400° F. Heat a pan over high heat.  Remove the tenderloin from the marinade (reserve the remaining liquid) and season it on all sides with salt and pepper. Sear in the pan until all sides are well-browned, about 1 minute per side. Transfer to a baking dish and bake for 20 minutes.
While the pork cooks, make a pan sauce. Reduce the heat under the pan to medium, and add the chicken stock and about 1/4 cup of the reserved marinade. Cook until reduced and somewhat thickened. Turn off the heat, add the butter, and swirl the pan until it melts completely. Season to taste with salt and pepper.
Remove the pork from the oven and let stand for 5 to 10 minutes. Slice about 1/4 inch thick and serve drizzled with the pan sauce. (The pork will be slightly rosy—this is totally fine and makes for juicier meat. But if you're really terrified of any hint of red in your pork, cook for a few minutes longer, measuring the internal temperature with a probe thermometer until it hits 150° or 155° F.)
Mashed Cauliflower
1 head cauliflower, chopped into rough chunks
Olive oil
2 tbsp. chopped garlic
2 tbsp. butter
1/4 cup chicken stock, plus more if needed
Fresh herbs, such as parsley, basil or chives, chopped
Preheat the oven to 400° F. Place the cauliflower on a baking sheet, drizzle with olive oil and sprinkle lightly with salt and pepper. Bake for 20 minutes. Transfer to a food processor and add the garlic and butter. Process until completely pulverized, about 30 seconds. Scrape down the bowl and add 1/4 cup of chicken stock. Process until combined. Add more chicken stock a few tablespoons at a time until the mixture is slightly loose in texture but still holds together, like thick mashed potatoes. Season to taste with salt and pepper and sprinkle with chopped fresh herbs.