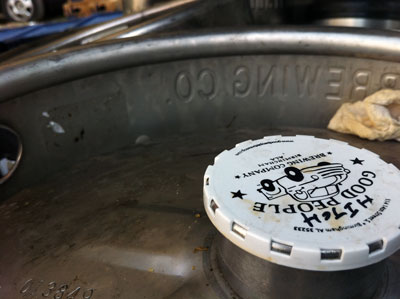 Last weekend marked my favorite Birmingham event: Magic City Brewfest. (Yeah, a beer festival doesn't fit with my job, but until this town gets a world-class cocktail celebration, this is the best we got.)
And this year was an extra-special one: Avondale Brewing Co., the newest local brewery, got final permission to open the morning of the festival. This was literally the first time Avondale's brews were served to the public, and I'm happy to report the company is very good at what it does (more on that below).
In fact, the 2011 Brewfest really seemed to shine a spotlight on Alabama breweries. Five of the state's six legal beer-makers—Avondale and Good People from Birmingham, Blue Pants and Straight to Ale from Huntsville, and Back Forty from Gadsden—were on hand, and all sported the longest lines all day long. (The sixth Alabama brewery, Yellowhammer from Huntsville, missed out only because it suffered some damage in the April 27 tornadoes and is low on product, I'm told.)
It's always hot in these parts in early June, but this year was especially so: My car thermometer read 104° on Saturday afternoon when I left the house. I'm usually a fan of toasty, malty brown ales and don't really love heavy hops, but they were just too heavy for triple-digit heat. (A sample glass of Back Forty's excellent Truck Stop Honey Brown Ale felt like a mug of steaming cocoa in that weather.) I gravitated to lighter, more refreshing styles I usually avoid.
So without further ado, some of my favorites from Magic City Brewfest 2011:
Avondale Brewing Co. Spring Street Saison. A light, low-alcohol brew, saison originated in Belgium (so says Wikipedia) as a way to keep farm workers cool during the late-summer harvest. Makes sense to me, as I could chug Avondale's flagship beer all day long. It's clean and crisp on the palate, but true to its Belgian roots it has plenty of the banana and clove notes you'd associate with a wild-fermented beer.
Avondale Brewing Co. Chilton County Belgian Brown. Yeah, it wasn't a good day for dark beer, but this one deserves mention. It's light-bodied for a brown ale, though it maintains a nice balanced maltiness. What's really notable about this brew is that it's made with real Chilton County (Ala.) peaches. It's not a fruit beer by any means; the peach note is extremely subtle and comes across as a slightly spiced acidity.
Straight to Ale Stop Work 689 Kölsch. Named for a building-inspector citation the brewery received that put its construction on hold for a while, this is one of the brewery's newest beers, I believe making its debut at Brewfest. It's a great example of its German style, which is basically a lightly hopped, super-light-bodied ale. (If you're a regular drinker of anything labeled "lite," kölsches are a good place to start getting into craft beer.) Straight to Ale's version is very refreshing, with a pronounced sweetness that doesn't linger on the palate at all.
Bacchus. Made by Castle Brewery Van Honsebrouck, which also brews Kasteel and Brigand ales, this was one of the most unique beers at the festival. It's super-sour, a big wallop of cherry and lemon flavor, but that's balanced by a nice level of hops. Not for the faint of heart, but if you liked Sour Patch Kids and Atomic Warheads as a kid, it might be for you.
Left Hand Sawtooth Ale. I'd tried a few of the beers from this Colorado brewery (its Milk Stout is quite nice), but never Sawtooth, which is apparently its most popular. It's a very clean, refreshing flavor with a little bit of lingering malty flavor. It's similar to Magic Hat #9, a "not quite pale ale" I've been drinking a lot of lately.
Cigar City Cubana-Style Espresso. I don't like coffee, but this is the coffee-est coffe beer I've ever tried. Most coffee beers have a hint of flavor that's more generic roastiness than anything else, but this one really does taste like strong espresso. It's not something I'd want to drink every day, but it's a very cool demonstration of just how wide a range of tastes beer can incorporate.
All in all, it was a great weekend for local beer, and I can't wait for Avondale's brews to start showing up around town. (It'll be a few weeks; they brought everything they had to Brewfest.) The new kid in town plans to make a lot of wild-fermented and Belgian styles, which suits my taste just fine. And I have a feeling I'll be drinking a lot more Spring Street Saison this summer.