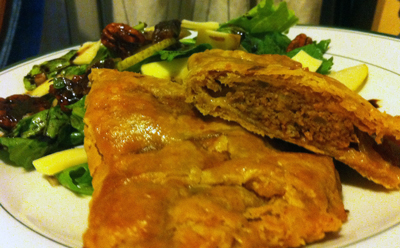 Charcutepalooza is a yearlong project I'm participating in to make recipes from Michael Ruhlman's Charcuterie: The Craft of Salting, Smoking, and Curing. For more information, see my introductory post.
The recipe option that immediately jumped out at me from this month's assignment was English Pork Pie. I mean, pork and pie—what's not to love?
That third word, that's what. Taking a closer look at the recipe, I found it to be, well, too English. Which is to say, bland. The pastry crust has no salt in it at all! The pork is seasoned with a little thyme and pepper and nothing else! No wonder British food has such a bad reputation.
So I went to Spain instead. Last time I made chorizo for Charcutepalooza, it was the spicier Mexican version. This time, I looked to Ruhlman's Spanish-style chorizo recipe, which he uses to make a dry-cured sausage. Basically, it swaps various types of chile powder and cumin for smoked paprika, AKA pimentón, my most favoritest spice.
I love pimentón and its amazing smoky flavor so much, I also incorporated it into the pastry dough, just like I do in my greens pie. It gives the finished product a gorgeous golden color, as well as a nice subtle flavor that matches the chorizo filling very well.
Just beware; this is not in any universe a light or fresh-tasting recipe. It's heavy, a little greasy, a bit spicy, and excellent. You're going to want to eat more than one empanada in a sitting. This is a bad idea. You should probably serve these with a salad, one topped with a vinegary dressing. Nadria found this theoretically Spanish salad from a restaurant at Disneyland, which was tasty if rather labor-intensive and not particularly Spanish. (The recipe is quite adaptable: In order to use what we had on hand, we subbed rice wine vinegar, cheddar cheese, pears, and a mixture of pistachios and pecans.)
You could also make lots of tiny empanadas—15 to 20 instead of the six in the recipe—for an elegant New Years' Eve-type appetizer. But don't serve 'em cold. That's much too English.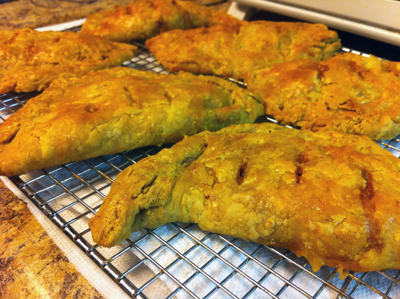 Empanadas de Chorizo
Dough:
8 oz. all-purpose flour
1 1/2 tsp. salt
2 tsp. smoked paprika
4 oz. (1 stick) cold butter, cut into pieces
4 oz. cold lard, cut into pieces
1 egg
1 tsp. milk
Filling:
1/2 small onion, finely chopped
2 garlic cloves, finely chopped, divided
12 oz. pork shoulder, cut into 1/2-inch cubes
1 1/2 tsp. salt
2 tsp. smoked paprika
2 tsp. chile powder
1/4 to 1/2 tsp. cayenne pepper
1/4 cup chicken stock
Make the dough: Stir together the flour, salt, and smoked paprika in a medium bowl. Rub the butter and lard into the flour mixture with your fingers until the mixture resembles coarse meal. Beat the egg in a measuring cup, pour half of it into a small bowl, and set aside. Add enough water to the measuring cup to make 1/2 cup and stir to combine. Add the egg-and-water mixture to the flour mixture and stir until the dough just comes together. Shape into a disc, wrap with plastic wrap, and refrigerate for at least 1 hour. Stir the milk into the reserved half of an egg and refrigerate.
Make the filling: Heat a small pan over medium heat. Add the onion, 1 garlic clove, and a small amount of oil. Cook until the onion is soft but not browned, about 4 minutes. Scrape into a small bowl and refrigerate until cold. Combine the remaining garlic clove, pork, salt, smoked paprika, chile powder, and cayenne pepper in a small bowl. Grind the mixture through the small plate into the bowl of an electric mixer. Add the cooked onion mixture and mix on low speed with the paddle attachment for about 1 minute. Add the chicken stock and mix until combined, about 1 minute more. Cover and refrigerate until very cold, at least 1 hour.
Preheat the oven to 425°. Divide the chilled dough into 6 equal pieces and roll each out on a well-floured surface into a rough circle 5 to 6 inches in diameter. Spoon one-sixth of the meat mixture (about 2.5 oz.) onto one half of each dough round and shape into a crescent shape, leaving about 1/2-inch border. Fold the dough rounds in half over the filling and crimp the edges to seal. Place the empanadas on a baking sheet lined with a Silpat or parchment paper. (At this point, you can refrigerate the empanadas for an hour or two—this will help keep the fat in the dough from leaking out during baking.) Brush the empanadas all over with the egg-milk mixture and cut three small slashes in the top of each one. Bake for 15 minutes, reduce the oven temperature to 325°, and bake until the filling reaches an internal temperature of 165°, about 15 minutes more.